Vicious Nokia Employee Gets VLC Removed from Apple App Store
Nokia employee and VLC developer Rémi Denis-Courmont goes against mission of VideoLan, gets Apple to remove VLC for iOS from App Store using licensing technicality.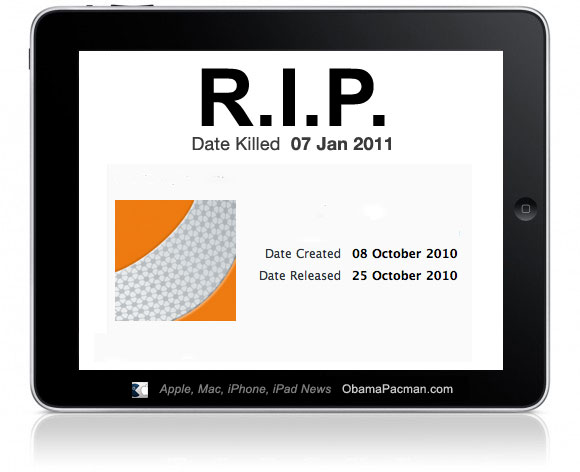 VLC Developer vs. App Store
Few months ago, VLC, the free video player from VideoLAN was released to the App Store. VLC for iPad, and later versions for iPhone and iPod touch, was ported to iOS by Applidium for free, and released for FREE. However, contributing developer and Nokia employee Rémi Denis-Courmont didn't like it.
Remi argued that open-source GNU General Public License that is tied to VLC conflicts with the terms detailed in Apple's own App Store licensing, and tried to remove the iOS VLC app based on copyright and licensing claims.
The issue is that Apple iOS Apps contain a standard DRM for security signing purposes. Remi ignores the fact that despite the DRM (there for security purposes), anyone with compatible iOS devices can use the VLC App. Apple also distributes the VLC app for free. Thus, Apple isn't restricting distribution with the DRM. Not at all.
VideoLAN Mission
Note the VideoLAN mission: "VideoLAN is a project and a non-profit organization, composed of volunteers, developing and promoting free multimedia solutions."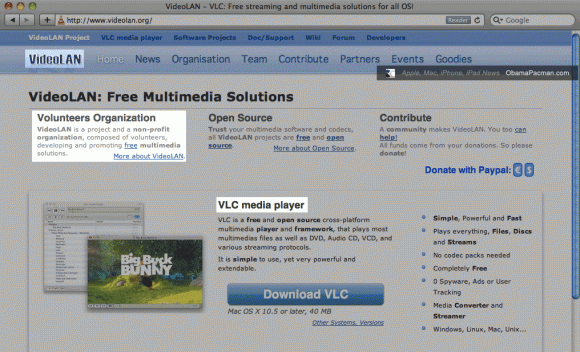 Apple Removes VLC From App Store on January 7, 2011
The Nokia employee did not attempt to achieve an amicable solution, instead he went straight to getting VLC removed from the Apple App Store. 2 months later, on January 7, Apple finally removed VLC for iOS.
"At last, Apple has removed VLC media player from its application store. Thus the incompatibility between the GNU General Public License and the AppStore terms of use is resolved – the hard way. I am not going to pity the owners of iDevices, and not even the MobileVLC developers who doubtless wasted a lot of their time. This end should not have come to a surprise to anyone." Rémi Denis-Courmont wrote on VideoLAN.
(Note, even though Remi's personal post is mirrored on VideoLan web site, it is NOT be VideoLAN's official stance on the topic.)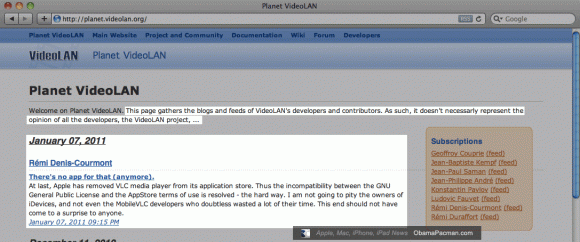 How vicious.
How is removing a FREE app conductive to VideoLAN's mission of "promoting free multimedia solutions"? Oh that's right, Rémi Denis-Courmont works for Nokia, a direct competitor of Apple. Rémi's personal stake in Nokia probably dived since Apple introduced the iPhone.
Nokia's Lost Market Values
Let us estimate Remi's Nokia losses.
In 2007, the year Apple introduced the iPhone, Nokia stock prices were up to all time high of almost $40 per share. But the prospects of maker of the low-end phones has dived since then. Recently, stock price of Nokia is down to a low of $8 per share, a 80% loss of value.
We wonder how many shares of Nokia does Remi own? Or perhaps it's his Nokia boss sending the order?
Responses to Nokia Employee Rémi Denis-Courmont
"The way I see it, we're not violating anyone's freedom. We worked for free, opened all our source code, and the app is available for free for anyone to download," Applidium cofounder Romain Goyet told Arstechnica in November 2010. "People are enjoying a nice free and open source video player on the App Store, and some people are trying to ruin it in the name of 'freedom.'"
OP thinks Apple should just give the Nokia employee the finger and say p1ss off, in the spirit of Steve Jobs' enthusiasm toward the big blue IBM: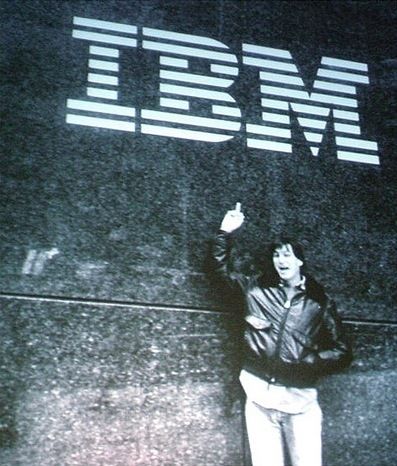 Do you think Steve is getting too mellow? The Apple CEO should have sent someone to Rémi Denis-Courmont, and deliver this message: "Boom! See this middle finger? We are not removing VLC from the App Store. Bring it on."
Update: Download VLC for iPad, iPhone, iPod touch
VLC is now released on Cydia, for jailbroken iPhone, iPod touch, and iPad. Sorry Remi / Nokia.
To Play AVI and various types of videos on iOS devices without jailbreaking, download CineXPlayer for iPad [App Store, $2.99] or CineXPlayer for iPhone & iPod touch [App Store, $1.99]

Related Posts