Verizon CDMA iPhone 4, Good, Bad, Ugly
On 11 AM of 1/11/11, Apple COO Tim Cook and Verizon CEO Dan Mead launched the Verizon Wireless iPhone 4. Here's the Good, Bad, & Ugly.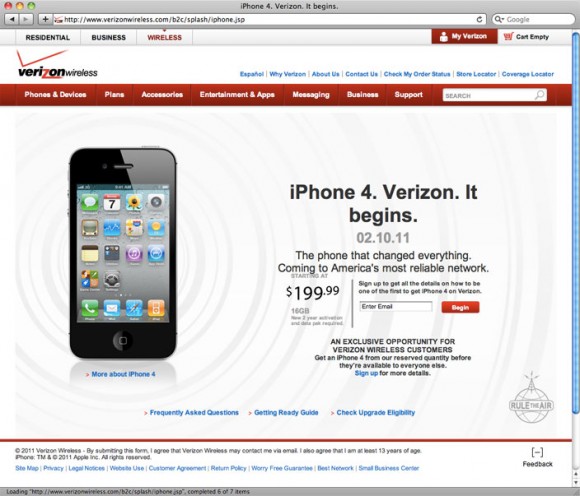 Verizon iPhone: Good
No rumored, more expensive CDMA iPhone 4. Verizon prices are on par with AT&T. $199 for the 16GB, $299 for 32GB.
One new thing is: "Mobile hotspot included! Up to 5 devices." In contrast, most carrier charge extra for "tethering" (ability to share data from the iPhone to other devices, such as a laptop). Currently the built in iPhone tethering option is through bluetooth, but seems that Verizon iPhone (and perhaps next iOS update, say 4.2.5) might include the ability to use iPhone as Mi-Fi to let devices connect through WiFi. The catch is that there is NO mention of prices of Verizon iPhone plans.
When people ask for an iPhone on Verizon, the store employees can no longer tell them to buy the iPhone knockoff such as kludge Android devices.
Verizon iPhone: Bad
Bad news, Verizon will cripple the Apple iPhone:
11:25AM Question from Ars Technica: what happens when you're on a call and need to use data? Dan: Same as a CDMA device.
Verizon CEO confirms that the wireless carrier will continue to impose limit on CDMA iPhone / devices to data OR voice. (iPhone 4 on AT&T or other GSM carriers has the ability for over 2.5 years, which results in much higher mobile network usage, slowing down the network in parts of some cities such as New York and San Francisco.)
That means Verizon phone users continues to suffer inability to make a phone call and search for information online at the same time. Someone compared the CDMA limit with the obsolete AOL: "Its like I'm back in middle school again, getting kicked off AOL when someone calls my house. 'Goodbye.'"
Note: If you are a Verizon user, you already have to deal with this problem of no data + voice. So that's not a huge issue to upgrade to the new CDMA iPhone.
Verizon iPhone Hidden Fees?
No words on hidden fees such as Verizon charges for Visual Voice Mail. Verizon confirms that they plan to include (or maybe offer optional downloads of) pay-ware such as VZ Navigator, and V CAST Media Manager on the Verizon iPhone tough.
What about using the Verizon iPhone while traveling? Verizon: "customers can use iPhone for voice and text in over 40 countries with data service in over 20 countries" (that supports CDMA), IF you pay for international roaming. You cannot unlock the Verizon iPhone and drop a GSM SIM card in it.

Related Posts