Vaporware Wars: Verizon iPhone 4 vs. Duke Nukem Forever Trailer
How will the Apple Verizon iPhone 4 stack up to the new Duke Nukem Forever game TRAILER, with "May 3, 2011″ release date? Will Duke smoke the Verizon iPhone?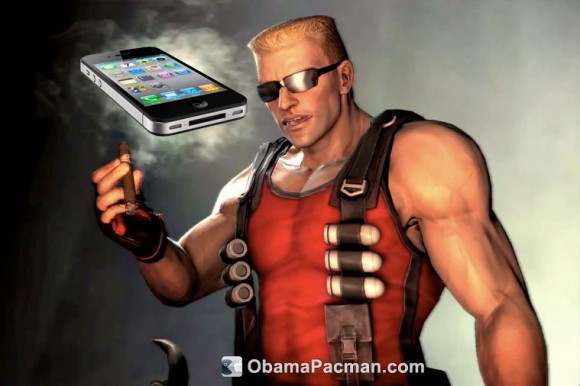 Is this the year in which two highly anticipated vaporware come to fruition? Will the Verizon iPhone 4 chew bubble gum and kick Duke Nukem Forever's arse? (Apple seems to be all out of gum though).
Trailer: Duke Nukem Forever
Verizon iPhone 4 only took 4 years to market, beating the famous 10+ year video game vaporware Duke Nukem Forever to market.
Pre-Order Duke Nukem Forever, 2011, May 3 Ship Date
However, looks like Duke Nukem Forever is actually coming soon, with release date: "shipping" May 3, 2011. You can pre-order Duke Nukem Forever now here: for [PC/XP/W7
| XBOX 360
| Playstation 3
]. And of course, the PC version will work on a Mac using BootCamp.
Even the mythical Apple tablet, iPad, comes to the market and conquered the tablet industry. So, when do you think Duke Nukem Forever will arrive on the App Store for Apple iPhone and iPad? Or maybe we should compare Duke Nukem Forever to the white iPhone 4?

Related Posts