Schools Embracing iPad in Education to Improve Learning, Save Money
New York City public schools just ordered over $1 million dollars of Apple iPad.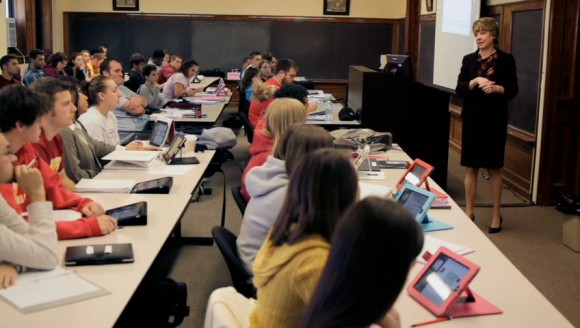 iPad Education Benefits
Apple iPad tablet's large touch screen, flat design, and light weight, which "offer relief from heavy books," are a hit with educators and students. New York Times reports.
Growing number of schools around the U.S. are embracing the iPad future. Many universities, high schools, even kindergartners are ordering hundreds or thousands of iPad to go paperless.
"School leaders say the iPad is not just a cool new toy but rather a powerful and versatile tool with a multitude of applications, including thousands with educational uses."
iPad are to "be used in class and at home during the school year to replace textbooks, allow students to correspond with teachers and turn in papers and homework assignments, and preserve a record of student work in digital portfolios."
New York City Spends $1.3 Million for iPad in Education
New York City public schools ordered more than 2,000 iPads for $1.3 million. Despite upfront costs that might seem extravagance to those who don't understand cost of ownership, iPad would save schools money over time, by reducing printing and textbook costs.
Daniel Brenner, Superintendent of Roslyn High School in Roslyn Heights, N.Y., estimated that savings from just two classes with iPad pilot program are $7,200 a year. (Being the fastest adopted consumer electronic device (faster adoption than the now ubiquitous DVD player), iPad is also saving time and money for governments, TV stations, other businesses, and millions of individuals.)
Photos from Apple iPad in Education site, which has an example video of iPad in education, from elementary school to Duke University medical school

Related Posts