"Realistic" Fake iPhone 4 Seen in Hong Kong
The new fake SoPhone fake iPhone 4, said to be so realistic most people can't tell the difference.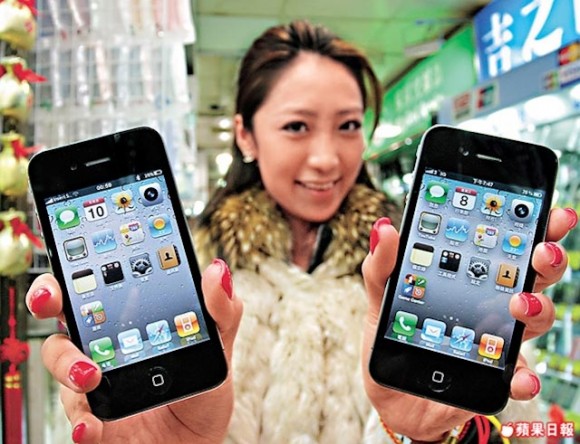 Video: SoPhone Fake iPhone 4
Following Google Android footsteps, Chinese counterfeiters take fake iPhone 4 up a notch. The new SoPhone fake iPhone 4 comes close to the Apple smartphone, even has realistic Apple boot icon and interface.
Counterfeiters got so bold, they now pay homage to Apple's "iPhone 4, This Changes Everything, Again" slogan:
"The China SoPhone salutes to Mr. Steve Jobs. Made in China, change the world." -Makers of SoPhone fake iPhone 4.
Apple Daily reports that a reporter finds most people cannot tell the SoPhone fake iPhone 4 from the real thing. Even foreigners from outside of Hong Kong got it wrong. Keep in mind that with editing, they could have shown only the false answers to sensationalize the story.
"The home screen, functions, appearance look 95 percent similar as the real one." Hong Kong gray market iPhone seller describes. "If you are talking about the software speed, this SoPhone is 50-60 percent similar as the original."
Specs: SoPhone Fake iPhone 4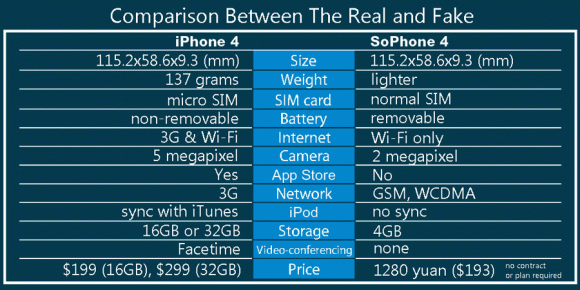 The fake phone measures exactly the same size as the real iPhone. Wait, full size internal SIM & CDMA? (Is that the secret of the Verizon iPhone 4?)
Video: SoPhone vs. Apple iPhone 4 Comparison
Here's the SoPhone fake iPhone 4 compared to the real Apple smartphone:
With the SoPhone interface closely aping the original, what's an easy way to tell the fake iPhone 4? The removable back containing small removable battery, laggy scrolling, no retina display, no microSIM card , and no sync with Apple iTunes or App Store.
SoPhone comes with only 4GB storage (instead of 16GB or 32GB) and 2 megapixel camera (instead of 5MP). But don't expect to see that revealed on the fake iPhone 4 box. Knockoffs typically list fake specs on the box to reap a higher price.
iPhone 4 Knockoff Price + Penalty
The counterfeit SoPhone sells for 1280 yuan ($193 USD) while the real iPhone 4 sells for $599 from Apple and often sells for much more unlocked. Selling counterfeit products carry huge risks though. Penalty for selling the fake iPhone 4 in Hong Kong is a fine of 500,000 HKD 9about $64,000) and jailed for 5 years. So far, 12 people have been arrested at the biggest gray market in Hong Kong.
micgadget via cultofmac
First Photo: Apple Daily / nextmedia

Related Posts