Real Life Angry Birds Arcade Game in China!
Inspired by the hit iPhone and iPad game Angry Birds, Chinese arcade builds real life bird bombardment game, launched with giant slingshot!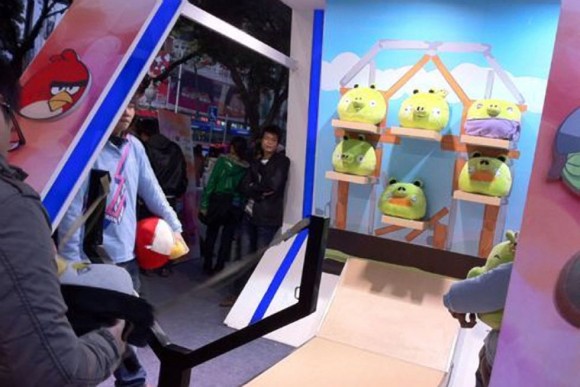 Real Life Angry Birds Game
China copies everything, again.
At Guangzhou China, a city northwest of Hong Kong, patrons can shoot real Angry Birds plush dolls at pigs using a giant slingshot! The plush angry birds are also available for sale. Unlike the iPhone game, the birds don't have special powers against the egg poaching pigs.
Looks like fun, doesn't quite look like the official Rovio Angry Birds plush toys though. (Look at the eyebrows of the red bird, not angry enough!)
Now, who is going to make a flying, screaming monkey [amazon link
] inspired version of the game?
micgadget via geekologie
Download Angry Birds
Download Angry Birds for iPhone, iPod touch [itunes link]
Download Angry Birds HD for iPad [itunes link]

Related Posts