Flying MacBook Air Balloon at Apple Store
Awesome Pixar "Up" movie inspired Apple Store MacBook Air balloon display, photos + video.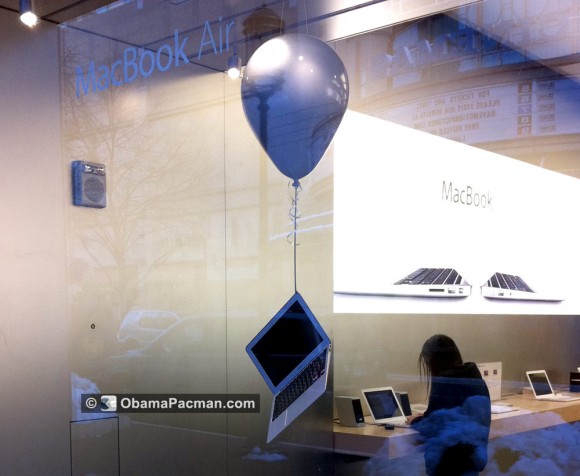 MacBook Air Balloon @ Apple Store Reston
Balloon + MacBook Air = floating laptop? Pixar Up [itunes link] inspired Apple Store MacBook Air display:
The ultralight MacBook Air is attached to a single balloon and moves slightly from the breeze when the Apple Store doors are opened.
Unfortunately the floating MacBook Air balloon Apple Store display is made with movie magic. Mythbusters demonstrates that flying objects with balloons ("A 4 year old child can be lifted by a bunch of party balloons") is harder than it looks in this episode: [itunes link, episode 8 Ping-Pong Rescue / Carried Away, $2]. What does it mean? The Apple Store computer-lifting-balloon is held with fishing wire.
If you like this, you might enjoy iPhone, Fly Like a G6.
Photos shot with iPhone 4. Use requires a do-follow link to the original ObamaPacman.com article.

Related Posts