Nomad iPad Paintbrush Stylus: Video
iPad paint brush made with conductive fibers. Useful?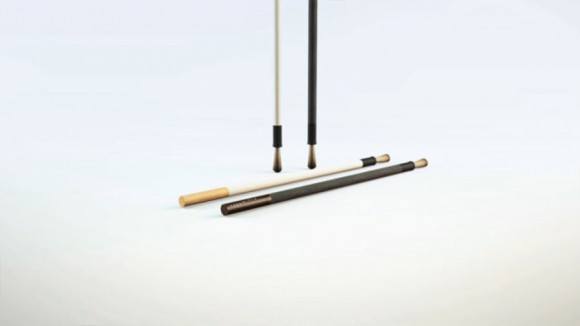 Don Lee Nomad iPad Paint Brush
Introducing the Don Lee Nomad iPad Brush. At least it's not the iPhone sausage stylus or cheese stylus:
Even though many artists found their finger works great on the iPhone and iPad for drawing and painting, apparently some think there is a market for an iPad paintbrush / giant stylus. Don Lee is releasing this Nomad Brush in February 2011.
Is it a novelty? Although iPad supports 11 multi-touch inputs, it is designed for finger sized inputs. Thus, individual bristle strokes are unlikely to be captured. We wonder if any drawing apps such as: ArtStudio for iPad [App Store], SketchBook Pro [App Store], and Brushes [App Store] will update to work with it?
iPad & iPhone as Artist Tool, FAQ
Some people question the benefit of using an iPhone or iPad as an artist canvas. Here are the common questions / FUD on the matter, and solutions:
Isn't the display imprecise? Well, obviously they haven't used an iPad or iPhone. Not only iPhone display wins smartphone touchscreen performance test, multitouch zoom allows easy zooming into details while drawing on iPad or iPhone.
Palm contact would also unintentionally "draw," preventing capacitive displays from being useful. In reality, that's easy to deal with, as artists can use fingerless gloves.
Capacitive display is not pressure sensitive. iPhone Graffiti Analysis App already solved that to a certain degree. Faster motions draw thinner lines, while slower motion draws thicker lines.
nomadbrush via cultofmac

Related Posts