New York Post: Newspaper Subscription CHEAPER on iPad
Stop the press! Rupert Murdoch's New York Post iPad App has reasonable subscription pricing!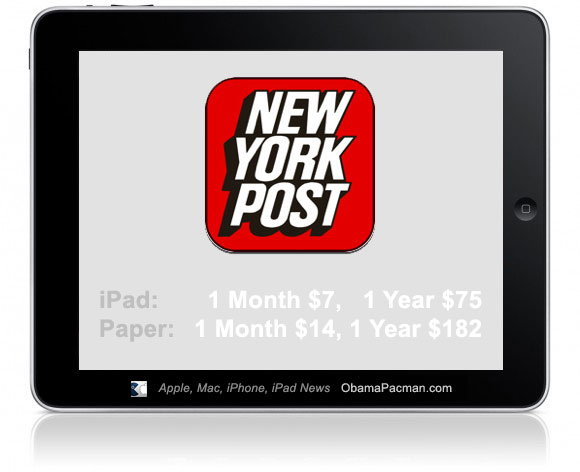 Rupert Murdoch's New York Post: Subscription Cheaper on iPad!
In a rare show of support and recognition of App Store, Rupert Murdoch's New York Post offers its subscription CHEAPER for iPhone and iPad users. Here are the prices:
iPad: One Month $6.99, Six Months $39.99, One Year $74.99
Physical subscription NYC: One Month $14.00, One Year $182.00
Washington DC Suburb: 4 weeks $28.00
The New York Post iPad App [itunes link] is one time price of $1.99 + subscription. Much cheaper than paper delivery.
The New York Post is described as the "13th-oldest newspaper published in the United States and is generally acknowledged as the oldest to have been published continuously as a daily." Maybe they're doing something right.
iPad vs. Publishing Industry Greed
Apple's iPad tablet has the potential to revolutionize the print industry. But so far there is no overwhelming success, due to greedy publishers hoping to over-charge iOS users. These publisher's BS excuses usually goes: Apple won't let subscriptions happen, or it's too expensive.
Using Apple's 30% iTunes cut as an excuse (but ignoring the cost of their own content printing, distribution, billing, mailing, and support system), many publishers tries to over-charge for electronic version of content on iPad, often hundreds of percent more than their subscription pricing.
No more excuses though. It seems that by charging a price that makes sense, The New York Post is so successful that Rupert Murdoch is launching an iPad only publication called The Daily!
What about the companies that think people should pay more for electronic copy than a paper copy. May those dinosaur companies crash and burn similar to a repeat of the music industry, before Apple saved them with iTunes.
Update: Apple launches iPad subscription services.

Related Posts