New Apple Land Theme Park Attracts Millions
Apple Land: Ride different. Scoopertino reports that AppleLand, Apple's new theme park, attracted over 1 million visitors in opening week.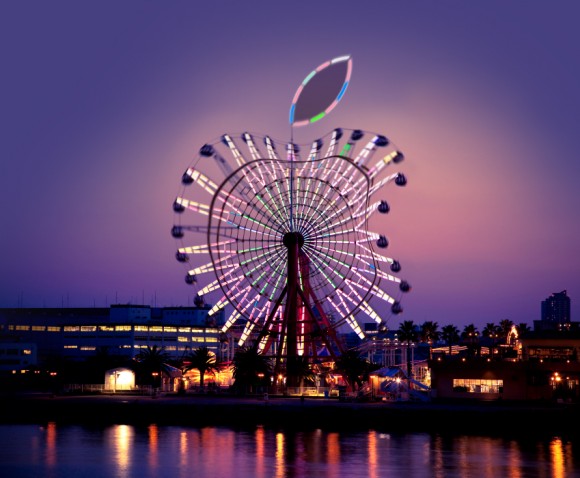 Apple Theme Park: Improvement on Disneyland?
Apple revolutionizes theme park industry with Apple Land. The Cupertino theme park is no Disneyland, although it could be the real magic kingdom. There are several themed sections: Iveland, Schillerville, Podland, Macland, iTunes Town, and the "unpredictable" Steveland. Attractions includes Dancing with the Woz.
Apple amusement park ride highlights:
Apple 1984 Ride
"1984. Put on some shorts, grab a sledgehammer and try to outrun the Thought Police as they chase you into the Chamber of Drones. Toss the hammer before you're caught — or you're likely to receive an animatronic beating."
MacBook Air Ride
Apple Land even has MacBook Air balloon flight inspired ride: "MacLand Air. For the most breathtaking view of AppleLand, go 1,000 feet straight up — in a hot-air balloon. The hot air is piped in directly from Microsoft headquarters, 855 miles north."
OP Editor note: Wow, those Redmond vaporware steam from Steve Ballmer et al. surely powers make-believe rides perfectly.
What will make the Cupertino technology theme park better? Maybe Apple Land should have iWater, Tim Cookie (Apple COO Tim Cook inspired), and Flash Mirage ("First it is there, then it is gone! It's Magical!" Must be because Flash is hot.)
"Open" Alternative to Apple Land
Despite the success of the Apple Land theme park, some people don't want the professionally prepared Apple experience though:
"Sounds great, but it's not open. I only attend amusement parks that are open source and use non-copyrighted material. I took the family to GenericFantasyLand last year and had a great time. At GenericFantasyLand if you don't like how RedHeadedMermaidWho'sNotArial is performing, you can just put the costume on and do it yourself.
I'm still not sure why the kids cried for two weeks and the wife left." – PatrickDisqus
Read more about all the different rides at humor site Scoopertino. We are sure the Dilbert Committee from both Microsoft and Google are frantically copying the Apple Land theme park as we speak.

Related Posts