iPod Charging At A Charging Station in Liberia
What an innovative multi-device iPod charging station! I wonder if you can buy it as an accessory from the Apple Store? Or would Steve Jobs ban it?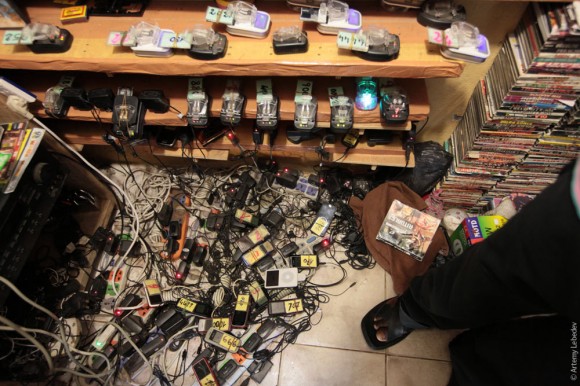 Where is Waldo iPod?
Liberia has power transmission poles overgrown with plants but no normal power plant, so people use generators to charge their gadgets.
Just about everyone has a mobile phone in Liberia, but many cannot afford a generator. Those people go to a kiosk like the one pictured to charge their gadgets. This charging station works with an Apple iPod!
All the devices are tagged with a number except the iPod, which needs no introduction.
Photo from part 2 of Artemy Lebedev's tema.ru (English) travel blog's article on Liberia, land of gold, diamonds, iron ore, white oranges, dirty beach, and finger-snapping handshakes. Part 1 here (English).
Thanks Maria, who wants to travel to Argentina, the land of steak, tango, and Patagonia, for the tip.

Related Posts