iPhone 4 Rumored for Verizon January 11, 2011 Press Event
Verizon just scheduled a media event next Tuesday at New York, the Big Apple. Is the Verizon President and COO introducing iPhone on Verizon?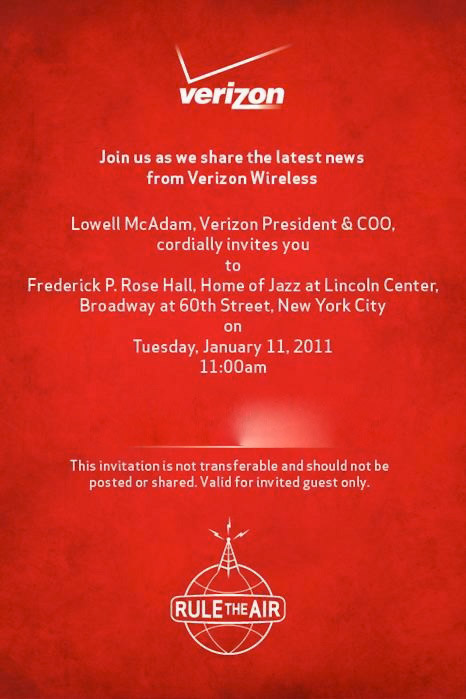 Verizon Launches CDMA iPhone 4 on January 11, 2011?
This comes at a time when Google hints Android growth hits a dead end.
"Join us as we share the latest news from Verizon Wireless. Lowell McAdam, Verizon President & COO, cordially invites you to: Frederick P. Rose Hall, Home of Jazz at Lincoln Center, Broadway at 60th Street, New York City, on Tuesday January 11, 2011, 11:00 am." The private media invitation states.
Is it the iPhone 4 on Verizon? After the release of Verizon iPad (thankfully without the telecom's logo printed all over the Apple tablet), there has been increased chatter on continued rumors of Verizon iPhone.
During Thanksgiving 2010, Verizon "goofed" and revealed that Apple iPhone is more attractive than Android. In addition, just weeks ago, Skype leaked Verizon iPhone 4 video calls. So, would next Tuesday's media event launch the Verizon iPhone 4?
All Things D thinks so with headline: "Verizon Event Set for Tuesday–iPhone Time."
But would Steve Jobs really share the spotlight at a Verizon event? Maybe Verizon is doing a CES 2011 styled vaporware presentation? Maybe the Verizon CEO will make an announcement that Apple will make an announcement at the upcoming January 2011 Steve Jobs Keynote weeks from now?

Related Posts