iPad "Cat Piano" Sings Kate Perry Teenage Dream
Can the Apple iPad replicate Kate Perry's voice and singing style? There's a Cat Piano App for that. Magical!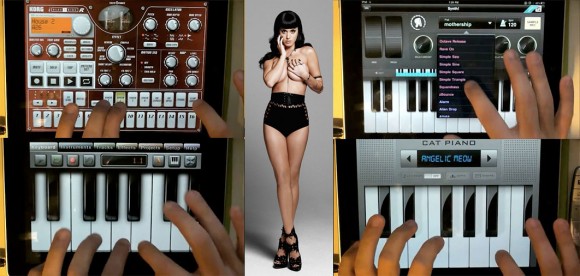 Kate Perry Teenage Dream Cat Piano Video
Is Kate Perry's secret to Hollywood celebrity stardom Angelic Meowing?
"Let's pause (paws?) briefly to appreciate this oddly enjoyable cover of Katy Perry's 'Teenage Dream' made entirely with iPad apps." – Kyle VanHemert.
The Kate Perry Teenage Dream Cat Piano video is created by Ben Powell with these musical iPad apps:
The creator of this Kate Perry Cat Piano video also has an album, Ben Powell Sketchbook, for sale under $5 on iTunes and Amazon
.
Kate Perry Teenage Dream Music Videos
Here's the real Kate Perry singing Teenage Dream:
You can download Kate Perry music on iTunes: [Teenage Dream] and [One of the Boys].

Related Posts