HTML5 Game Under 10K
Created under 10K. For iPad, iPhone, iPod touch, and Mac: "A game built using [HTML5] canvas and JavaScript – no external libraries."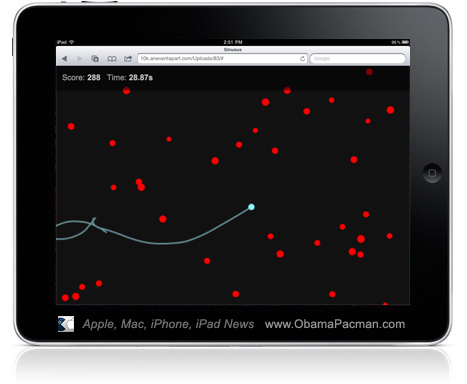 HTML5 "Arcade" Game, Sinuous
"What could you build with only 10 kilobytes of code?" 10K apart asks, offering over $10K in prizes.
The Grand prize contest winning project is Sinuous, by Hakim El Hattab. It is an easy to pickup game with a total size of 6.9KB (smaller than most individual graphic files on a web page). In the fast paced retro arcade styled game, players control a particle to navigate through a storm of red dots, and look for green power ups. The HTML5 game works on iPhone, iPad, iPod touch with swiping.
To play the game, go to 10k apart and click on "launch app" on the upper right.
What do you think? Is it better than the Google HTML Pacman game?

Related Posts