FAIL: Facebook Movie, "Social Network," Is A Lie!
Facebook film "The Social Network" [iTunes HD $19.99, SD $14.99] just won four Golden Globe awards, including best motion picture and drama. But Mac fans might notice a major movie fail.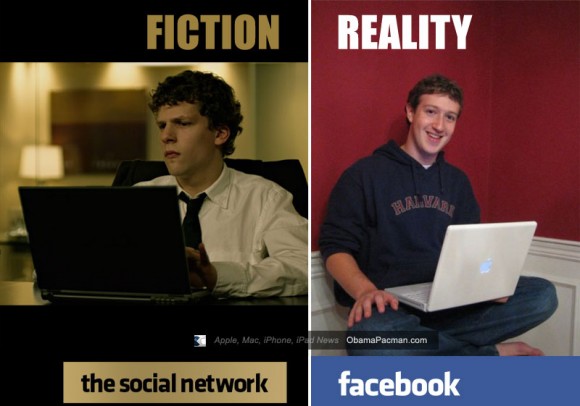 Trailer: The Social Network, Facebook Inspired Fiction
Facebook Social Network Revolution
Facebook saved the world from Microsoft-mimicking MySpace, known for its bad taste of "open" user page designs that allows annoying animated GIFs and everything fugly about web design.
Mark Zuckerberg, who became the youngest billionaire in the world, started this multi-billion-dollar Facebook social media revolution. In The Social Network, Zuckerberg is portrayed as a young narcissistic genius.
Critics agree that it's a great film (97% at Rotten Tomatoes), so where does The Social Network fail?
Mac vs. PC in The Social Network Movie
One thing that stands out is that the movie is littered with PCs. The Social Network shows Mark Zuckerberg using a PC at Harvard, where he created the original Facebook.
Unfortunately, in real life, Facebook founder Mark Zuckerberg used a Mac at Harvard. The Facebook CEO continues to use Apple computers this day.
The movie also shows a PC laptop that turns on from closed / sleep instantaneously. What's this, back to the future? But seriously, a personal computer that turns on from sleep instantaneously? That's called a Mac. A Windows PC is unable to wake up from sleep instantly, like the movie shows.
The Social Network does feature Apple products for a few seconds though. Let's say Apple Store Genius Bar probably won't cover what they did to the Mac: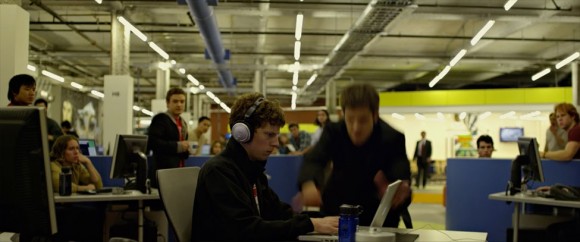 Fiction: The Social Network Movie
Although the film written by Aaron Sorkin contains facts, real names and refers to actual events, the script is fictional. The movie has taken "liberties" on the portrayal of Facebook founder and CEO Mark Zuckerberg.
Joe Morgenstern in The Wall Street Journal describes "Everything that's seen isn't necessarily to be believed."
Forbes reports that Mark "has been dating the same girl since before he built Facebook." "It was very clear it was fiction from the beginning," said the Facebook CEO about 'The Accidental Billionaires: The Founding Of Facebook, A Tale of Sex, Money, Genius, and Betrayal' – the book which The Social Network is based on. "We didn't participate because we didn't want someone to write this fiction and then say 'and we talked to Mark Zuckerberg.'" (Updated: book title.)
Sony Social Network Product Placement
So, why would a movie deliberately lie about Mark Zuckerberg's use of a Mac and try to vilify the Facebook founder? As it turns out, the movie is produced by Columbia / Sony Pictures. Here are some examples of Sony's product placement in The Social Network: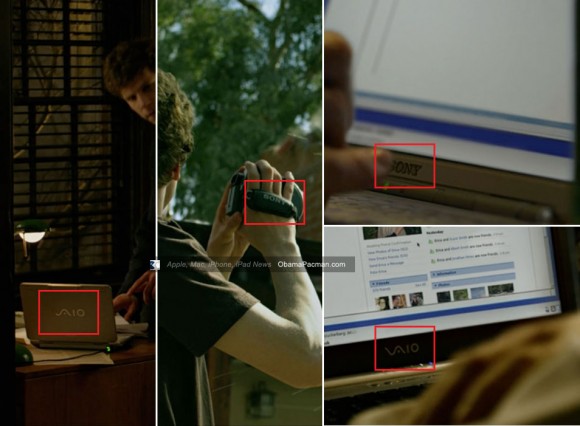 Do you think The Social Network director David Fincher sold out? Or maybe he's trying to say that jerks use PCs?
UPDATE, 2011 November: RedLetterMedia points out more of Sony's lame product placement scheme in Adam Sandler 'Jack and Jill' movie review. Summary at part 2, 10:12.

Related Posts