Review: British Library App Puts Rare Manuscripts on iPad & iPhone
The British Library puts rare manuscripts plus historical, musical, and scientific documents on iPhone and iPad. OP App review and video demo.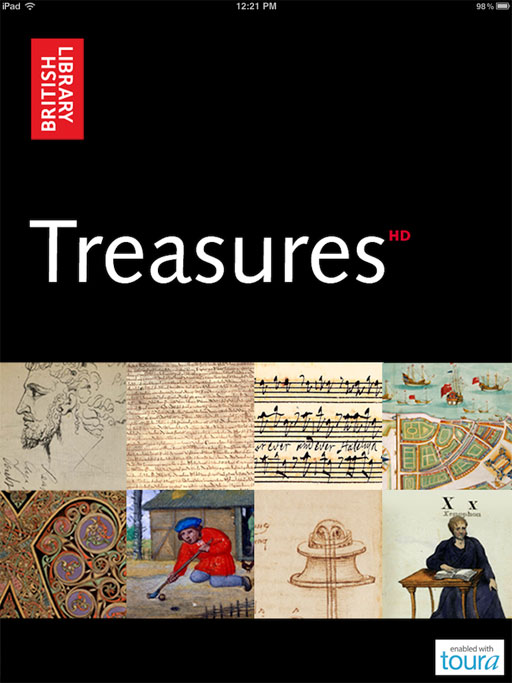 From anywhere in the world, readers can access highlights (excerpts) of over 100 titles from the British Library collections on iPad, iPhone, and iPod touch.
The British Library App shows part of the original manuscript of Alice in Wonderland by Lewis Carroll, scientific documents including Fleming's discovery of penicillin, and Copernicus' and Galileo's findings on the structure of the cosmos.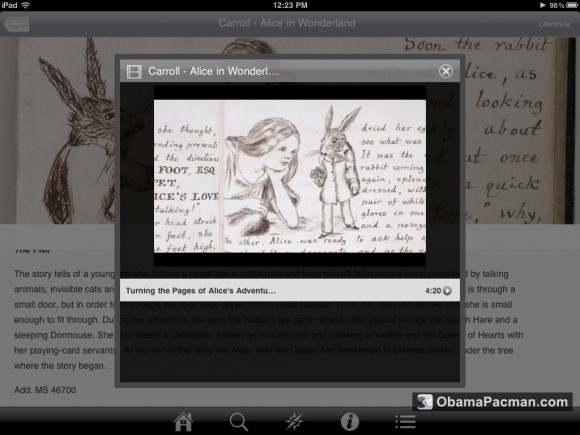 "Literary highlights include Charles Dickens's handwritten draft of Nicholas Nickleby and Jane Austen's teenage writings, while key historical documents include 2000-year-old Oracle Bones from China, an original Magna Carta of 1215, Elizabeth I's famous Tilbury speech before the Spanish Armada, and a recording of suffragette Christabel Pankhurst's speech after her release from prison.
The section devoted to music includes manuscript scores from some of the best-known classical composers, such as Handel, Purcell, Mozart and Schubert, alongside calypso and traditional folk music. A section devoted to maps showcases some of the most interesting and beautiful maps and views from the collection."
Video Demo, British Library: Treasures HD iPad App
In addition to high-resolution photos, some titles even have video commentary. Currently, there are also about 50 short videos that requires a WiFi connection to watch. Here's the excerpt (1/3) of the video on original manuscript of Alice in Wonderland by Lewis Carroll on iPad, audio starting around 28 seconds:
What's Good
Version reviewed: British Library iPad HD App, version 1.1 published January 9, 2011.
The British Library App is AirPlay compatible. It is easier and faster to browse than their website. It's a much more satisfying experience to "hold" the historical documents in your hand, on the Apple iPad tablet, than view it on a computer.
It includes access to 1.2GB of multimedia content that can be streamed on the iPhone and iPad App. It also highlights the current Exhibition.
What Needs Improvement?
Videos do not play automatically – they need to be manually started. (The video should play automatically after the user clicks once on the video button). There are also some stability problems. Sometimes, the back button would not work while in image view, requiring force-quit.
What's Bad: British Library iPhone iPad App
Although the British Library has scanned all the pages of the original works, it's odd that only few images / pages are viewable in their iOS App. For example, the Alice in Wonderland section only shows four pages. Leonardo Da Vinci's Notebook only shows one page, even though the description contains reference to two "examples of well-known images from this transcript."
The full documents and books are available at the British Library website. Good news, right? Sort of. The site is a great example of design-by-committee (or by the IT department), instead of designers and web usability experts.
If British Library wants to highlight the Frankenstein nature of the proprietary web plug-in, they succeeded. Portions of the site require Shockwave (Adobe Flash), Microsoft Silverlight, .net, .wma (Windows Media Player), and Real Player audio (WTF?). In contrast, their use of the universally supported MP3 audio format is very limited. British Library FAIL.
Thankfully, images and text are supported natively by Apple computers, the iPhone, and iPad. However, British Library web pages mostly use .wma, the proprietary Microsoft audio format that opens up VLC for iOS but does not play.
Why doesn't the App display the full content of the select items it features? Why would anyone buy an iOS app that is limited to just a few document excerpts? For the 1.2GB of streaming content?
An in-app browser (to show the full content) each "highlight" page would really improve this app. And while it's impossible to add the full content of every single title from their library due to storage space requirements, the app should add more titles.
British Library iOS App Improvements
Here's a summary of what we would like to see improved in the British Library Treasures app:
Fix back button and stability bug
Link to FULL documents with in-App browser
Ability to take / check FULL documents and videos for offline viewing (say when flying)
More titles, or at least – access to more of the library website's CMS
Video should play after 1 click, not 2 clicks
Swipe between categories
Download British Library: Treasures HD
If you read the good and the bad, and still like to support the effort of British Library, then download away:
British Library iPhone, iPod touch App: [App Store], $1.99
British Library iPad HD App: [App Store], $3.99

Related Posts