Apple Website Design Hints Aluminum to Liquid Metal MacBook Pro?
This week, Apple tweaks its website design, using a darker color scheme in navigation bar. Does it mean the switch of Apple laptops from unibody aluminum to liquid metal?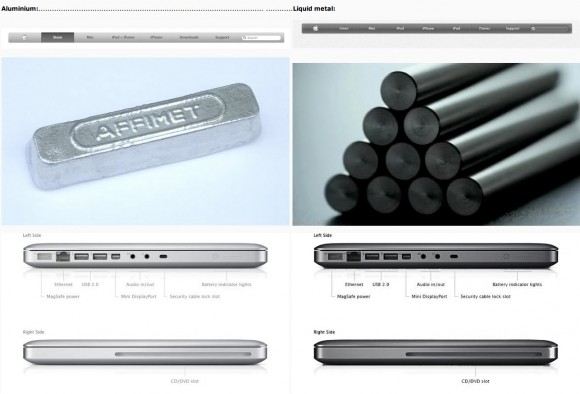 Apple laptops have over recent years seen titanium, multi-piece aluminum, and unibody aluminum used for its thin casing. Will Apple use the stronger liquid metal (exclusive to Apple in computing industry) for the upcoming MacBook Pro refresh?
Some think the darker theme of the new Apple website matches the liquid metal colors seen in some photos, as shown in the illustration.
Apple is likely to add liquid metal but we don't think the darker colors is a clue to liquid metal MacBook Pro. Why? The liquid metal iPhone sim ejector tool is shiny (like chrome), not darker as shown in these images. Maybe it's preparation for Mac OS X 10.7 Lion?

Related Posts