Apple Tweaks Website Design: Adds HTML5 Animation [video]
Last night Apple Store site was closed for an update. Some people speculated Cupertino is adding the white iPhone 4 for sale, but it turned out to be a design tweak.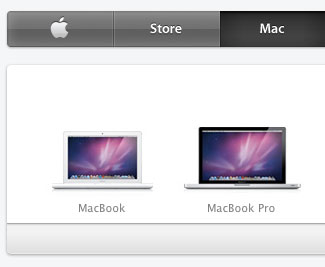 Apple Menu Bar Update
Apple made a subtle change to its menu bar, using a darker color instead of the aluminum / brushed metal look, macrumors noticed. (Graphics by Apple blog ObamaPacman.com):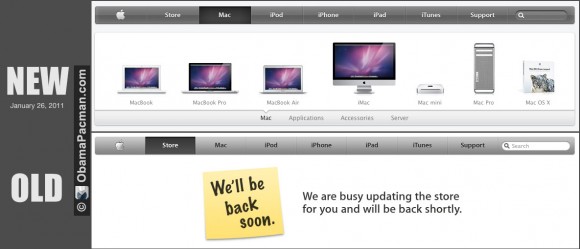 Apple Adds Classy HTML5 Animations
Apple also introduced subtle and classy HTML5 animations:
The new Apple HTML5 animations include:
Products zoom into the display window when page loads
When you select different product category (use mouse or arrow keys), the Apple products races to line up, jiggling slightly as they stop to stand at attention
Apple website menu bar drops down (when you visit any apple page the first time in a new tab (28 seconds in video), otherwise the menu fades in)
Search bar stretches out when you select it (not shown)
The new Apple website HTML5 animations can be seen on the Mac and iPod page. Works on latest Safari (5.0.3) and Chrome (8.0.552.237) browsers. It degrades gracefully with no animations in Firefox of Internet Exploder Explorer.
Apple Navigation Design Optimization
Apple reduced the navigation menu file size too. The older Apple globalnavbg.png takes 29KB, while the new elements, consists of 3 PNG files, take up a total of 16KB. That's almost 50% file size reduction.
Meanwhile, white iPhone 4 remains elusive just like double rainbow and Duke Nukem Forever.

Related Posts