Apple MacBook Pro 15, 17-inch Refresh Soon
MacBook Pro inventory is running low at third party merchants with 1 to 2 month shipping time on Amazon for the 17″. New Apple laptop refresh with Intel Sandy Bridge expected soon.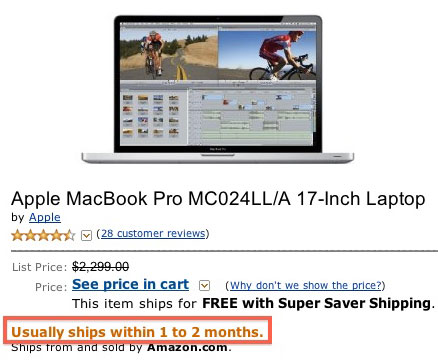 Apple MacBook Pro MC024LL/A 17-Inch Laptop
is out of stock when ship and sold by Amazon
, and 4 left in stock at J&R on Amazon. Apple Store still has them in stock, shipping in 24 hours, so it seems Apple is reserving the last amount of its inventory for its own stores.
New Apple 15″ and 17″ MacBook Pro are expected to use the Intel Sandy Bridge microarchitecture, which uses the 2nd generation of Core i3, i5, and i7 processors.
Expected announcement date of the new 2011 MacBook Pro? We think it'll be after mid February, after the Verizon iPhone 4 madness (Feb 3 pre-order for existing Verizon Wireless customers, Feb 10 all customers). Bring it on Apple! I need a new laptop! Maybe with MacBook Air styled fast SSD drives? (There's even some rumors for liquid metal).
via macrumors

Related Posts