Apple Launched Mac App Store
In the past few years, Apple revolutionizes mobile app distribution with the iOS App Store for iPhone, iPod touch, and iPad. Today, Apple launched the new, optional Mac App Store. Would Steve Jobs say: "This Changes Everything, Again?"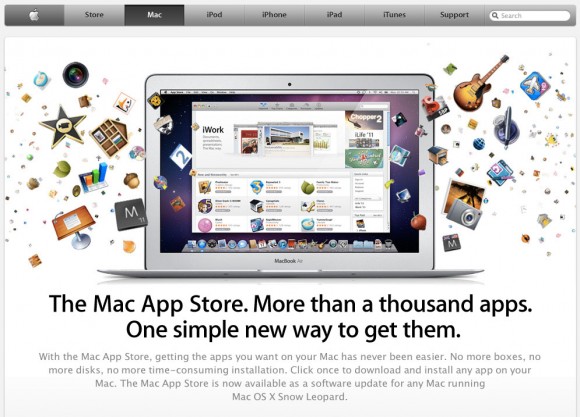 Apple already runs the world's largest music store and mobile app store on iTunes, so the new Mac App Store is expected to change the landscape of software industry. And yes, you can buy popular iOS games for Mac, such as Angry Birds [App Store], Chopper 2 [App Store] (currently $0.99, 80% off launch price), and Flight Control [App Store].
"With more than 1,000 apps, the Mac App Store is off to a great start," said Steve Jobs, Apple's CEO. "We think users are going to love this innovative new way to discover and buy their favorite apps."
Diverse range of software from productivity, to games, to animation, video production software are available. "The Mac App Store offers apps in Education, Games, Graphics & Design, Lifestyle, Productivity, Utilities and other categories. Users can browse new and noteworthy apps, find out what's hot, see staff favorites, search categories and look up top charts for paid and free apps, as well as user ratings and reviews." Apple describes.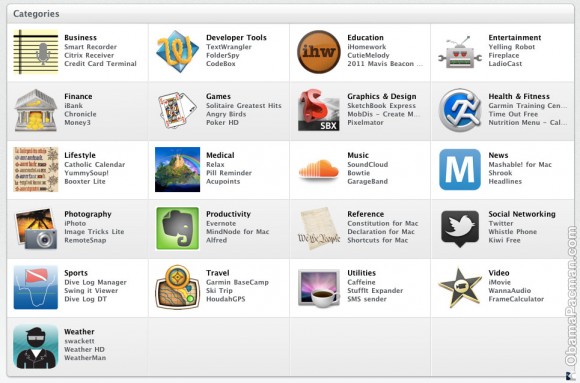 The new Mac App Store uses iTunes account, so any iTunes gift card can be used toward Mac Apps (besides music, movies, TV shows, and iOS apps). Like iOS Apps, once purchased, the Mac Apps can be downloaded and installed in just one step, and be re-downloaded free of charge on new Mac or current Mac.
Previously installed current Apple software, such as iLife 11 is recognized and added to "installed" list. Third party apps are not recognized at this time.
iLife 11, containing iPhoto [App Store], iMovie [App Store], and Garageband [App Store] are available individually at $15 each. Buying all of the iLife titles would save 8% off of the $49.00 boxed price.
Apple's professional photo editing software Aperture 3 [App Store] is available at $79.99, 60% off Apple Store $199.00 boxed price.
Mac App Store: 5 Years Backward Compatibility
The Mac App Store supports all Intel Mac [amazon link
] running Snow Leopard, so it has 5 years of backward compatibility with Apple computers. (First MacBook Pro with intel processor was introduced January 10, 2006). If you got an older Intel Mac without 10.6, you need the $29 Snow Leopard [amazon link
], and the free Snow Leopard 10.6.6 update which installs App Store in the applications folder.

Related Posts