Analysis: Apple 'App Store' Trademark Objection? (Microsoft Tries to Fool USPTO)
Microsoft, jealous at the App Store success, tries to fool USPTO to reject Apple's trademark application.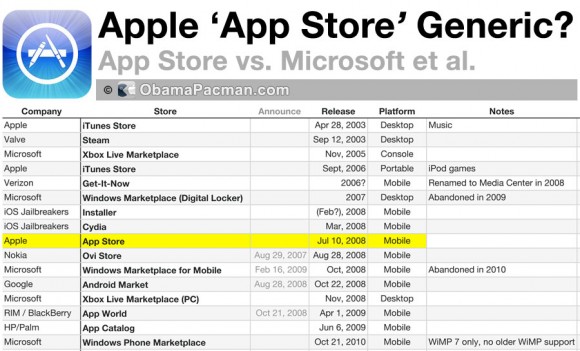 Microsoft Dilbert Committee: Apple 'App Store' Too Generic
Is the Microsoft Dilbert Committee desperately out of ideas of what?
Seems that Microsoft plans to officially copy Apple's trademarked "App Store" name by trying to get the United States Patent and Trademark Office (USPTO) to reject Apple's trademark application for the iconic mobile software store. The claim? Apple "App Store" name is generic, techflash reports.
Microsoft already got Windows banned in China and Office 2007 pulled from US. The Redmond software company continues to display more anti-competitive traits in a January 10, 2011 Motion for Summary Judgment [0.6MB PDF]:
"Microsoft opposes Apple's Application Serial No. 77/525433 for APP STORE on the grounds that 'app store' is generic for retail store services featuring apps and unregistrable for ancillary services such as searching for and downloading apps from such stores… Apple cannot block competitors from using a generic name. 'App store' is generic and therefore in the public domain and free for all competitors to use."
Microsoft's Weak Objection to Apple "App Store" Trademark
Will USPTO be fooled by Microsoft's argument to dilute Apple's trademark?
Fact is, before the successful Apple iOS App Store for iPhone, iPod touch, and iPad, there were no noteworthy operation calling a mobile software business "App Store."
Here are some examples of what different companies and developers call their software distribution systems:
Apple: iTunes Store (released April 28, 2003), starts selling music
Valve: Steam (released September 12, 2003)
Every mobile operator has its own carrier branded store. Example, Verizon: Get-It-Now (released 2006?), later renamed to Media Center in 2008.
Jailbroken iPhone & iPod touch: Installer (Feb? 2008), Cydia (March, 2008)
Apple iOS: App Store (released July 10, 2008)
Nokia: Ovi Store (announced August 29, 2007, released August 28, 2008)
Google: Android Market (announced August 28, 2008, released October 22, 2008)
RIM / BlackBerry: App World (announced October 21, 2008, released April 1, 2009)
HP/Palm: App Catalog (June 6, 2009)
Samsung: Samsung Apps (no reliable citations)
For years, Microsoft tries to brand a generic term "Marketplace" for its iTunes Store wannabe:
"Xbox Live Marketplace" (released November 2005 xBox 360, released November 2008 PC)
"Windows Marketplace for Mobile" (announced February 16, 2009, released October 2009, becomes obsolete in 2010)
"Windows Marketplace" / "Digital Locker" (abandoned by Microsoft in 2009)
"Windows Phone Marketplace" (released October 21 2010, WiMP 7 only)
Mac vs. PC, Desktop "Apps"
By the way, what's the equivalent of Apps on the desktop? For over a decade, Apple has been using the term "Applications" on Mac OS. Here's an example from the Mac OS X public beta, released on September 2000, of Apple using "Apps" (Application is used on retail versions of Mac OS):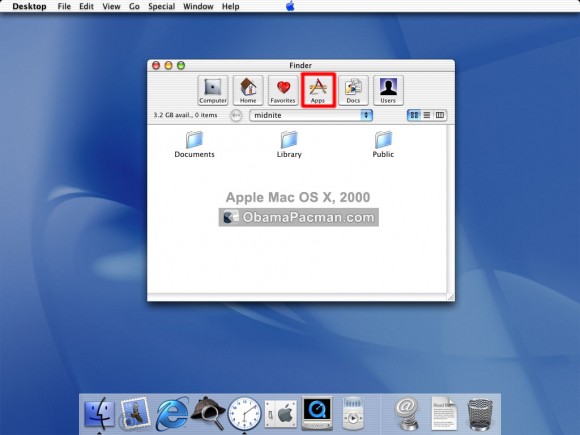 NeXT, founded by Steve Jobs in 1985, and the basis for the modern Mac OS, also calls software "Apps". This is from NeXT OpenStep 4.2: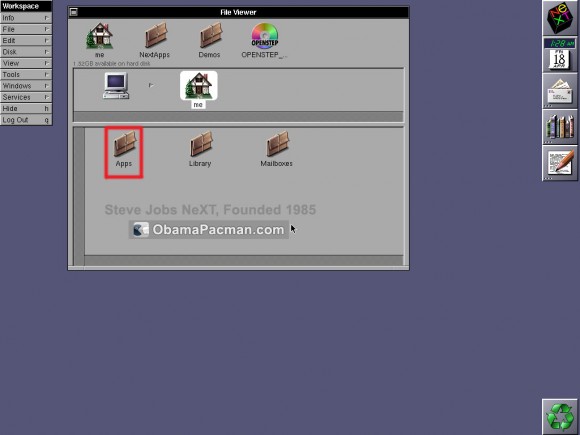 What about the Redmond copy machine? Before the App Store becomes a household name due to the Apple iPhone, why would some Windows switchers to Mac would ask: "Where is the 'Programs' folder on the Mac?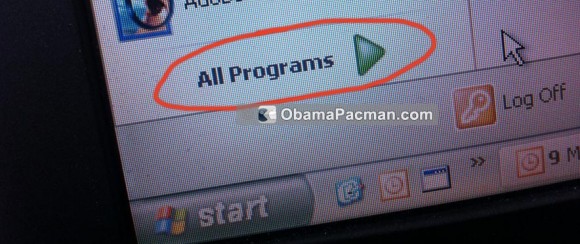 That's because Microsoft uses the term "Programs" as the official term to describe software under the Windows and its start menu (XP, Vista, etc.) But the Redmond company did not try to make a "Program Store," ".exe store," or "App Store" though. Instead, ignoring its own Windows convention of "Programs," Microsoft marketing tries to monopolize the dry term of "Marketplace" and "Live Marketplace" for its software store.
Truth is, until Apple started using the term "App" (there's an [iPhone] App for that) and established the Apple App Store, everyone used the terms program, software, or application.
iOS .ipa?
What About iOS .ipa extension? Some people point out that iOS does not use the .app extension. But guess what? Apple's iOS apps with extension ".ipa" stands for iPhone/iPod Application.
Conclusion: Microsoft Objection to Apple 'App Store' FAIL
Judging from industry history and Microsoft's own failed attempts to successfully brand the generic "marketplace" word, naming a mobile software distribution business "App Store" is anything but obvious or generic. If it was so obvious, why didn't Microsoft use "App Store" before 2008? In reality, Apple created the App Store through hard work and success of the iPhone platform; other companies (especially Microsoft) had no part in it.
Even though App Store is sometimes used to describe mobile software, its use is similar to how people use "Google" to describe web searching. Just because everybody is using it, doesn't mean the trademark is in the public domain, free for competitors to use.
At least the blind can see with iPhone help. Microsoft's argument that 'App Store' is not the fruit of Apple's hard work, is akin to trying pull the wool over eyes of USPTO and just reeks of hopeless desperation.
Graphics Credit
First and third image by OP Editor.
Mac OS X public beta and NeXT screenshots from guidebookgallery, annotated by OP Editor.

Related Posts