WOW: Word Lens iPhone Camera Real-Time Translator, Augmented Reality App
Welcome to the future. An iPhone app that translates with real-time image-recognition.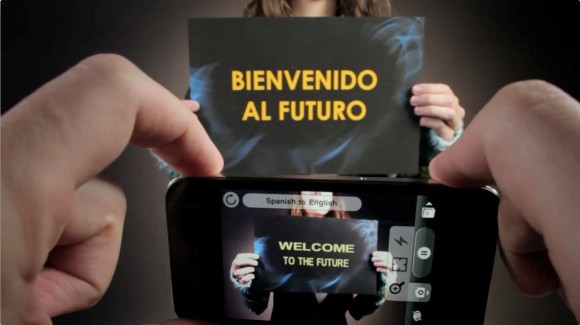 Video: iPhone Augmented Reality Translator Word Lens
Made on a Mac, iOS developers at Quest Visual released an iOS-based technology breakthrough this week:
We covered the iPhone voice / speech translator earlier, but this could be even more amazing.
Something straight out of sci-fi comes exclusively to Apple mobile devices. Point your iPhone 4, iPhone 3GS, and iPod touch 4 to some text, and the Word Lens App translates it instantly.
The augmented reality style app erases any detected text, translates it, and adds translated text back in the live video. Using a similar-sized-font too. It does NOT require network connection. There is also a manual mode: look up translations by typing them in. It's amazing, unreal, maybe even magical!
Download Word Lens [itunes] for free, with "Reverse Words" and "Erase Text" demo mode. Translator modules: English to Spanish or Spanish to English, are available in App purchase of $4.99 each. Developer states that it is currently 50% Off and expires Dec 31, 2010.
Review: Word Lens iPhone App
Tested on OP Editor's iPhone 4.
Word Lens App works for large text relatively well. We are amazed at the instant, realtime processing done this app. It works on text as small as the "iPhone" text on the back of the Apple smartphone.
In the "Second Coming of Steve Jobs" [amzon link
] example, Word Lens iPhone app read and translated most of the title. It's not perfect, with problems of some text flashing back and forth incessantly (in this case "Steve"). But it could be just due to the stylized fonts.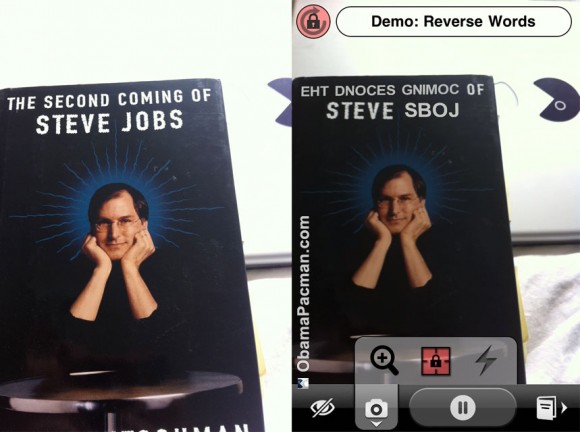 As mentioned by the developer, it does NOT recognize handwriting or stylized fonts. However, keep in mind it's a newly released v1.0 product, so we're sure the developer will improve the App even more.
We believe Word Lens is leading the way to make Star Trek styled universal translator iPhone app or an Apple EyePhone that displays a translated-augmented-reality-world a future reality. It's one small step for iOS, one giant step for man kind.
Word Lens augmented reality translator is on Apple iOS 4.0 or later only. Not for Android, Windows Phone 7, or BlackBerry (keep dreaming fandroid, WiMP, and wackberry users).
Tip thanks to Maria aka Pixar Luxo Jr. meets Mac artist. We got the tip around 1 AM, but their server was down at that time.

Related Posts