Vevo HD Music Videos App for iPad
If you love music videos, then check out the free Vevo HD app new for iPad.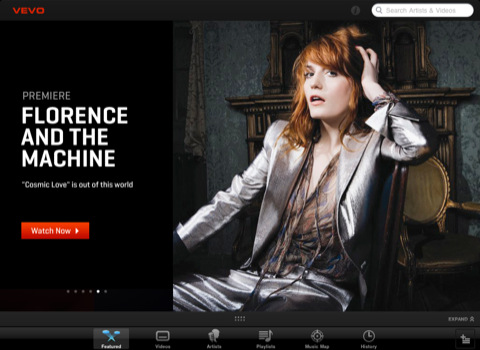 Could it be the MTV for the future generation? Yes, we can watch Beyonce & Lady Gaga on our Video Phone and the magical iPad Apple tablet.
Vevo brings over 25,000 official videos from more than 7,500 artists released their iPhone and iPod touch app awhile ago. Now Vevo brings easy to access music videos to the iPad with Vevo HD.
Vevo App for iOS is fast loading. Some video quality could be better, but we're happy to see no interruptions in videos. Nice touch for music fans is the brief music trivia before each video. Artists include Michael Jackson, Coldplay, Lady Gaga, Kate Perry, Jay-Z, Beyonce, Akon, Alicia Keys, Taylor Swift, Eminem, Bajofondo, Britney Spears, and Justin Bieber.
There are occasional ads before videos but it's not as often as YouTube's forced ads on desktop. Currently only available in United States and Canada, due to music industry licensing restrictions.
Vevo iPhone + iPod touch download: [itunes]
Vevo HD for iPad download: [itunes]

Related Posts