CNN: Verizon 4G Network is a Lie
Verizon announced it is launching a 4G-LTE network next week, but won't have full coverage until 2013. However, CNN money says "it's a myth" of unicorn proportions. So, why is the Verizon 4G mobile network a lie?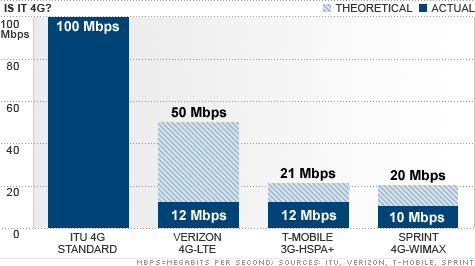 4G Network: Myth of Unicorn Proportions
Verizon, T-Mobile, and Sprint have been flooding the market with 4G advertisements lately. But isn't 4G better than the current 3G standard? CNN revels the secret of their "4G networks."
"Here's the secret the carriers don't advertise: 4G is a myth. Like the unicorn, it hasn't been spotted anywhere in the wild just yet — and won't be any time in the near future." money.cnn describes.
The real speed of 4G network is a network capable of download speeds of 100 megabits per second (Mbps), describes The International Telecommunication Union, which sets global wireless standards. Neither Verizon 4G-LTE, T-Mobile 3G-HSPA+, and Sprint's 4G-WiMax "4G" networks come close to the real standard.
Basically, what Verizon and other carriers are advertising as 4G network is similar to speed as an improved 3G network. LTE means 3GPP Long Term Evolution, which AT&T is upgrading around the country too. However, AT&T, the official US iPhone carrier, prefers not to try to fool people into thinking improved 3G is the next generation 4G wireless network.
Verizon 4G Network Fail
Verizon: Pay $50 for 1 HD Movie!
Verizon plans to charge $50 per month for 5GB of data on its fake "4G" network. It advertises that users can download full-length HD movies with their expensive data plan. Are they clueless on how large HD movies are? Verizon obviously thinks users should spend $15 or $20 to pay for a HD movie file, and then pay another $50 to download one HD movie.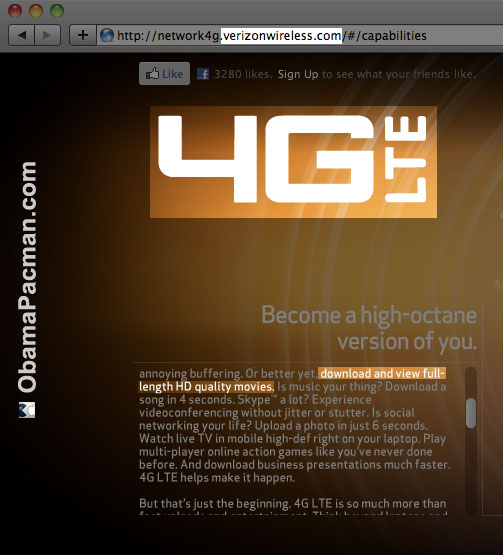 No Voice + Data Use Multi-tasking?
Verizon does not even sell 4G phones at this time, so even if the Verizon's fake 4G network supports voice and data use at the same time, no actual device supports multi-tasking of voice and data use at the same time.
OP Editor looked through the Verizon 4G-LTE network advertisements and its horrible non-searchable Flash site. There is still no word on whether Verizon can support simultaneous voice and data connection in its yet-to-be-completed network upgrade (which won't be complete until 2013).
In contrast, iPhone users are able to surf the web and talk at the same time since 2008 with the iPhone 3G (then, 3GS and iPhone 4). What a joke to see the 2013 Verizon 4G-LTE network FAILS to have the same capability as the 2008 AT&T 3G network.

Related Posts