Skype Leaks: Verizon iPhone 4 Video Calls
Skype teases that they are introducing new products at 2011 CES, with "leaked" support document that hints iPhone 4 is coming to Verizon.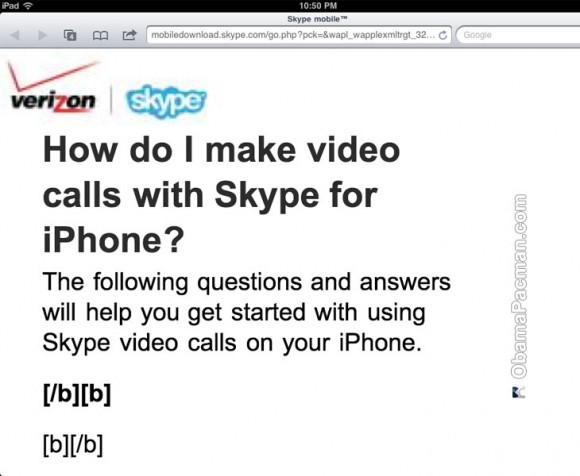 Skype: Verizon iPhone 4
"To make video calls with your contacts, you will need an iPhone 4, iPhone 3GS, 3rd generation iPod touch, 4th generation iPod touch or an iPad. Your contacts will only be able to see you if your device has a camera. Make sure your device is running iOS 4.0 or above and that you are using Skype for iPhone 3.0 or above." Skype leaked recently in a support document.
Note Verizon logo. Quite unusual for Skype to include the Verizon logo in an iPhone 4 video chat document without reason.
Skype for iPhone 3.0 is required for video calling. Current Skype App is at version 2.1.2., so the leaked document is about a future version of Skype for iPhone, iPod touch, and iPad, expected at the next CES scheduled for January 2011. Skype is quite late at mobile iPhone video chat support. Although Apple believes FaceTime is best as WiFi only for now, multiple apps (such as Fring, Tango, and Yahoo Messenger) already allow AT&T 3G mobile-video-chat on iPhone 4.
Skype hints that even devices without front facing camera, such as iPhone 3GS and iPad, will be supported with one way video.
Verizon itself hints that iPhone is coming to replace Android, so iPhone 4 video chat on Verizon might not be too far of a stretch. Note that Verizon iPhone rumors has been going around for years though, but AT&T's exclusive US iPhone carrier is expected to be expiring 3 years after the launch of the 2007 revolutionary Apple smartphone.
Verizon already sells the iPad WiFi with its own hotspot service.

Related Posts