New iPad Flash-Playing, Social-networking, RSS-Reading SkyFire Browser
Most websites already serve modern HTML5 videos for iOS devices. But for those who still want to watch Flash videos on iPad, now you can with the newly released SkyFire browser.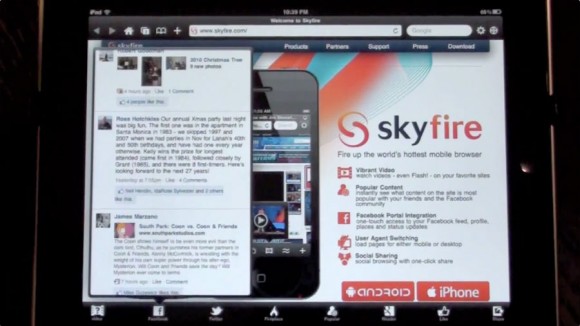 Video: SkyFire iPad Flash Video Viewer
The video demos the social-networking, Flash-video-playing, RSS-reading web browser for the iPad:
Funny that it used CNN for demo the App. CNN already has HTML5 / MP4 videos that work on iOS devices, and also dedicated App Store Apps optimized for iPad, iPhone, and iPod touch. SkyFire used CNN to demonstrate the very cool "Popular" feature though, not video-playing. For the video demo, SkyFire demonstrated playing Comedy Central Flash videos on iPad.
SkyFire Web Browser with Flash Video Player for iPad
SkyFire transcodes Flash videos on its servers to iOS compatible modern formats, and now streams it to the iPad. Of course it's for Flash videos only, no Flash games. It takes 15 to 30 seconds for videos to load. Not all videos are supported, as Flash is fragmented. The SkyFire browser for iPad includes Facebook, Twitter, Google Reader, Instapaper, Pinboard, and Read it Later integration.
Since SkyFire servers are in the US, folks outside of US might have problem viewing content made for their country. However, those outside of US may be access US only content. Note that SkyFire does not work on Hulu and many video subscription services due to content licensing restrictions by media companies.
How well does SkyFire web browser work? "Over 100,000 web sites presently supported, with more added every day." Its developer describes.
SkyFire Flash iPad, iPhone, iPod Touch Video Viewer Download
You can be the first to download Skyfire for iPad by downloading it here. (iPhone and iPod touch version was so popular the developer removed the apps from sale for days to add server capacity, maybe iPad will be the same).
For first timers, the browser WILL say that your device needs Flash installed (or needs newer version of Flash) in place of the video. You can ignore that and click the "video" button in the lower-left-corner to detect a Flash video.
Verdict? We really like it. Unexpected feature: SkyFire for iPad is an EXCELLENT browser that maintains content in your other tabs (something Safari FAILS to do). "Popular" is also one cool feature. It has AirPlay support too!
Want to know if SkyFire for iPad works for a site you visit? Post a URL in the comment and we'll test it out.
SkyFire for iPad [itunes link] $4.99
SkyFire for iPhone and iPod touch [itunes link] $2.99

Related Posts