iPhone Controlled Beer Robot Serves with Air Cannon, Tweets
Looks like a fun DIY project: a mini fridge robot that fires 4 types of cold beer on demand, controlled with an iPhone.
Video: iPhone Controlled Beer Cannon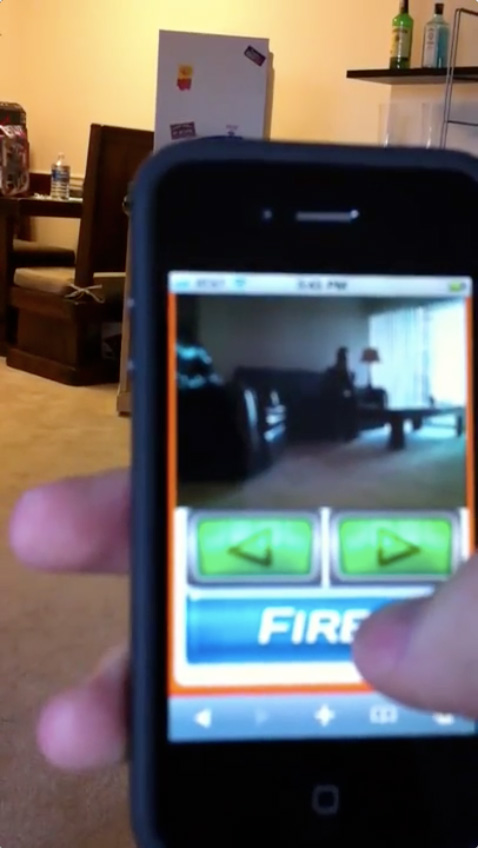 Video: iPhone Controlled Mini Fridge Beer Cannon
We've seen iPad robot keg and iPhone controlled beer tap, but this iPhone beer shooting robot brings it up a notch:
With this mini-fridge robot, you can set the temperature of your favorite brew, aim it with a video camera (cross-hair coming soon), and launch it across the room, all from an iPhone. Its creator describes:
"This is the maiden voyage of my mini fridge that now shoots beers via iPhone. It is controlled by an iobridge via a web based iPhone interface and shoots the beers from an air cannon in the housing."
Features:

Vends 4 types of beer
Broadcasts temperature
Adjust temperature via iPhone
Aim via webcam
Auto tweet video per shot
Fire beer with 50psi of deliciousness
Want one? Its creator is considering selling this beer serving robot once version 2.0 is tested.
Finally, a beer robot with built in sobriety test (if you can't catch it, then you can't drink it). Perfect for New Years Eve party? Do you think the beer will be shaken, not stirred?
personalbeerrobot on youtube via tuaw

Related Posts