iPhone App Saves Basketball Player's Life
The quick-thinking coach uses an iPhone App to help perform CPR when a player's heart stopped beating in the middle of the basketball court.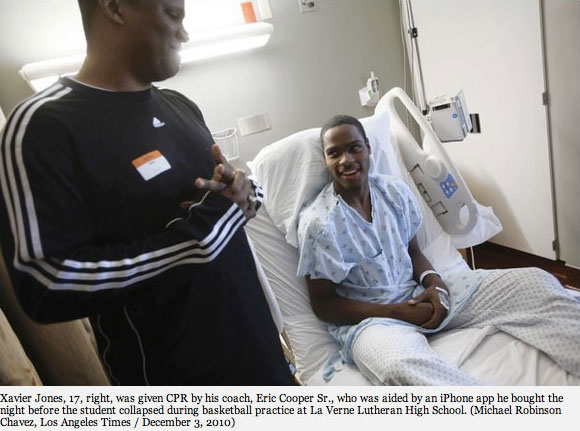 After the collapse of Xavier Jones, a 17-year-old high school senior, the head coach and assistant coach rushed to the court to help. Assistant coach John Osorno was able to revive him by administering CPR with the help of an iPhone App.
LA Times describes: "The night before, Cooper had fortuitously downloaded an application to his cellphone that gives real-time instructions on how to administer cardiopulmonary resuscitation."
"It was really fresh and clear in my brain," he said. "We are trained in CPR, but the iPhone app was a stabilizer for us." The life-saving iPhone app is Phone Aid [itunes link]. Earlier this year, iPhone medical app saved filmmaker's life in Haiti earthquake, now, another inexpensive iPhone app has saved another life.
Doctors have diagnosed Jones with a serious condition, so his basketball days are over.
"I'm just thankful and happy to be here," Jones said from his hospital bed. "Things could have been a lot worse." Despite his condition, Jones, who has a 4.0 grade point average, says that this incident won't stop him from persuing his other goals.

Related Posts