iPad Leads Corporate Tablet Market Adoption, Satisfaction
ChangeWave survey of 1,641 business IT buyers in November 2010 shows that iPad leads the corporate tablet market.
Adoption: iPad in Corporate Tablet Market
For corporations that provide employees a tablet, The Apple iPad (82%) remains by far the most popular Tablet for business purposes. The iPad knockoffs are way behind, with HP Slate (11%) and Dell Streak (7%).
Apple iPad also leads in projected IT spending / expected corporate purchases for 2011 Q1 (first quarter), leading at 78% against oversized phone and vaporware from Dell, RIM / Blackberry, HP, and Samsung: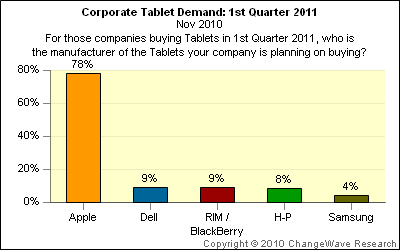 Satisfaction: iPad in Corporate Tablet Market
In terms of satisfaction with their tablet, the Corporate market is most satisfied with the Apple iPad with (69%) very satisfied. HP is at (23%), and Dell at (12%).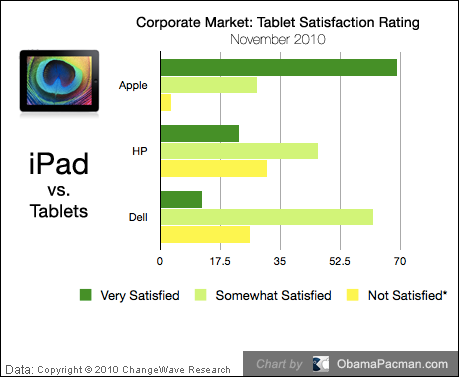 Dissatisfaction Rating: iPad vs. HP, Dell Tablet
The ChangeWave survey did not indicated the numbers that are dissatisfaction with their iPad or tablet. Thus, OP Editor took away "Very Satisfied" and "Somewhat Satisfied" to estimate those unsatisfied with their tablet. Traditional PC makers leads Apple in this dubious distinction. HP tablet leads with (31%) unsatisfied tablet users. Dells is close with (26%) unsatisfied users. iPad is an order of magnitude lower with only (3%) unsatisfied.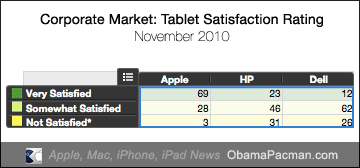 Business Case Study: iPad Tablet Usage
3 months since the August 2010 survey, corporate usage of iPad tablet increased rapidly for these 6 business functions: Internet Access, Checking Email, Working Away from Office, Sales Support, Customer Presentations, and even Laptop Replacement.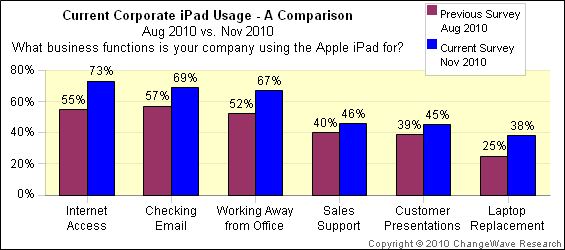 Laptop Replacement, at 38% of companies that uses a tablet, is going to have a significant impact on PC sales when more companies move to use the iPad, which starts at $499 [iPad on: Best Buy
| Amazon
| Buy.com].
[Changewave, $1,500]
investorplace via macrumors

Related Posts