How to: Track Your Packages on Your iPhone, iPad, & Mac
Bought many things for the holidays? Wondering how to track all those packages on your Mac, iPhone, iPod, or iPad? There's no need to keep refreshing a number of web sites, or keep a long list of tracking numbers.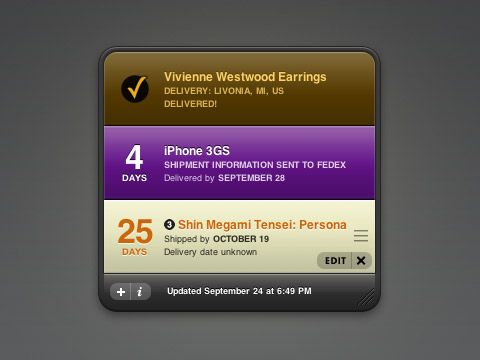 Mac OS X Dashboard Widget
June Cloud makes an excellent free dashboard widget "DELIVERY STATUS" for Mac OS X. You can sync to multiple devices with the optional account. The dashboard widget supports a ton of shipping services, including:
Amazon (US, Canada, United Kingdom, Japan, Germany, Austria, and France)
Apple (US and International)
DHL, FedEx, UPS, TNT
US Postal Service (USPS), Royal Mail, many European post services
The Widget is a free download. Here's how to track your packages using the widget:
Download: Developer Site | Direct Download (1MB)
Install the widget
Open dashboard, and open widget

Use your Mac keyboard shortcut or click on the app icon in OS X dock to open dashboard.
To see the widget, you might need to hit the + in the bottom corner, and look for the widget. Click widget to add to dashboard.

Mouse-over the widget, hit + to add packages and track. (Optionally, you can hit "i" to create account or sign in to sync your packages)
Package Tracking for iPad, iPhone, iPod touch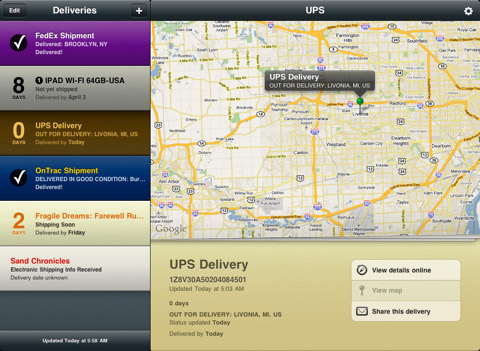 Delivery status is also available for iOS devices as an universal App, which works on iPhone, iPod touch, and HD on iPad. You can optionally sync your data between your Mac and iOS devices if you open a free account.
You can download Delivery Status touch [itunes link] for $4.99 to track all your packages on the move.

Related Posts