Google: iPad Hotter Than Justin Bieber and Android
Apple iPad beats Android and teen pop star Justin Bieber in Google's own Zeitgeist top-10-list of "How the world searched" in 2010.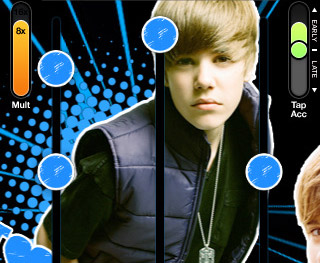 Google 2010 Top 10 Searches: iPad Hotter Than Justin Bieber and Android
Despite what Google PR advertises, Google's own Zeitgeist 2010 top 10 search-list shows that there is more worldwide interest for Apple's iPad and iPhone 4 than their own Android.
Fastest Rising search terms of 2010
Apple's iPad tablet took the world wide ranking of second place for the Fastest Rising search terms of 2010, slightly behind Chatroulette, but ahead of Canadian teen pop-star Justin Bieber, shown here in his own tap tap iPhone game [itunes link].
For the "In the News" category, iPhone 4 took sixth place, while Lady Gaga is at the fifth place. Apple devices also dominates the Fastest Rising world wide searches in Consumer Electronics. iPad took the top spot, and the iPhone 4 took the second spot. We are not surprised, because even Google confirms that iPad is "your tablet."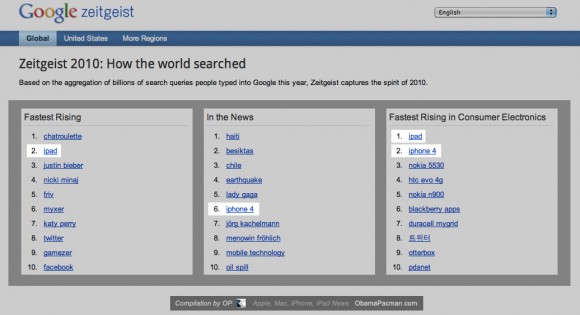 iPad & iPhone Hotter Than Android
In stark contrast to Apple's original devices, there is almost interest in Android in the world-wide level. No Nexus One, the Google phone. No Motorola Droid. No Samsung Android tablet train wreck either. The only Android device on the top 10 list is the HTC Evo 4G, which showed up behind the has-been Nokia 5530 phone. Perhaps Fandroids, blindly following their robot overlords, do not do any research before buying their Android powered fake iPhone?
google zeitgeist2010 via cultofmac

Related Posts