Google Hints Android Growth Hits Dead End
Could Android be at the end of its technology lifecycle? The latest activation numbers from Google hints it.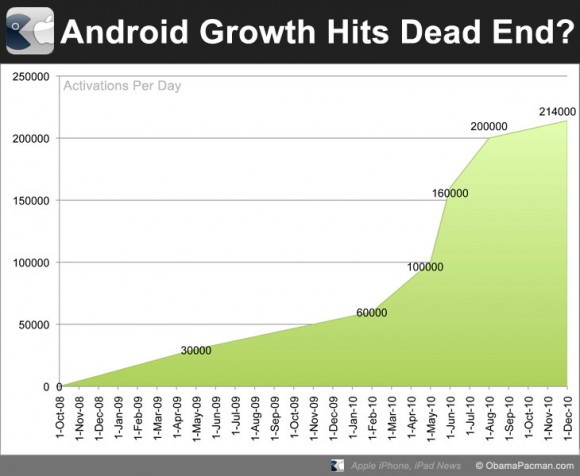 From Spring this year, due to Verizon's free android phone offers where Android phones are buy one and get one free, Google can't wait to tell the press about increases of Android activations. On August 4, 2010 Google CEO Eric Schmidt told reporters that Android, the fake iOS, has crossed the 200,000 per day in terms of activation. Are iPhone users totally screwed?
At the latest Android 2.3 Gingerbread announcement this week, Google changes its tunes. On Monday, the fake-iPhone maker from Mountain view releases their latest activation number. Instead of consistently using number of phones activated per day, Google describes current numbers at 1.5 million phones a week, hoping that people can't do the math.
The latest Android activation numbers is about 214,000 per day, not much more than the last announcement of "above" 200,000. Translation: there is almost no acceleration since early August, coming into the busy holiday season. Oh, and those sales even includes the new Android Samsung Galaxy Tab tablet.
Technology Lifecycle: Android S-Curve
In business terms, the Android adoption might be at the end of the S curve growth. The stalled sales could mean that Android is reaching the high point of the technology lifecycle bell curve:

So, what caused the slow down heading into the busy holiday season? Is it the beginning of the end of the counterfeit platform so dry on ideas it makes Google employee dress like Steve Jobs & Jony Ive to film their copy of Apple iPad, iPhone 4 ads?
Did Verizon drop the Android buy one and get one free deal? Is it the Android fragmentation? Is it realization that Android is not open? Is the Rebel Alliance beginning to resist the Android dark side?
Maybe it's the "leaked" hints that the genuine Apple iPhone 4 is coming to Verizon.
via fortune.cnn
First chart by OP Editor. Second chart Technology Adoption Lifecycle model. Drawn in OmniGraffle and then trimmed in Apple Preview.

Related Posts