Google Copies Apple iPad, iPhone 4 Ads
In a hilarious development, Google employee dress up like Apple CEO Steve Jobs and iPhone, iPad designer Jony Ive to tape the official Android 2.3 (fake iOS) video.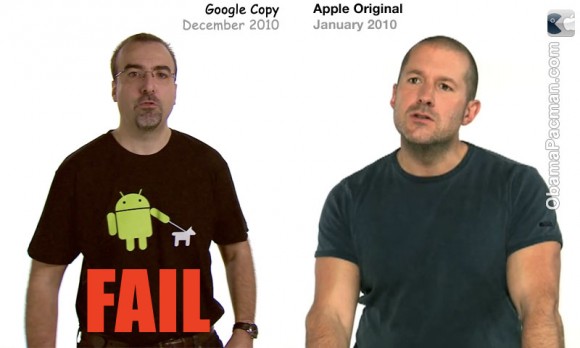 Video: Google Copies Apple iPad, iPhone 4 Ads
Google, not content at superficially counterfeiting the look of Apple iOS, copies Apple iPad and iPhone ads.
This official Android 2.3 video was recently released on December 1, 2010.
Original Apple iPad & iPhone 4 Videos
The google video copies the Apple iPad video from January 2010, in which Apple executives describes the new tablet. It also copies the "iPhone 4, This Changes Everything" Apple ad from 2 seasons ago.
And what's with the first guy? Jony Ive doesn't wear glasses, so David Turner, Technical Lead of Android NDK must be copying the well known Steve Jobs fashion (black shirt, round glasses, jeans, and probably sneakers too):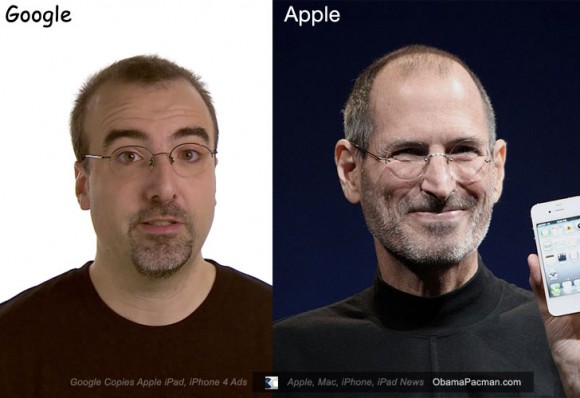 No one from the video copies how Google CEO Eric Schmidt dresses.
So, did Google ran out of original ideas or what? Surely, cluelessly copying the market leader must say something? Hint: NOT market-leading-innovation.
Perhaps, Google believes that only Apple is smart enough to figure out the ONLY way to make things work. That must be why Android is aping almost everything Apple does? Or maybe Google is confirming that it aims to be just another Chinese Apple counterfeiter?
Image composites of Android vs Apple above created by OP Editor.

Related Posts