"Ninja Steve" Approved by Apple App Store!
The fun Steve Jobs inspired game "Ninja Steve" is approved by Apple. Download now [itunes link] on the App Store!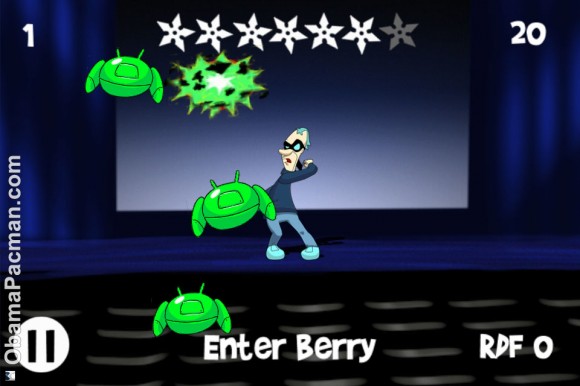 iPhone Game: Ninja Steve Music Video
"Ninja Steve: There's fast. Then there's ninja fast…"
iPhone competitors sending their mindless drones to the heart of Apple? No problem, if you are ninja Steve.
Combining catchy tune, challenging duck hunt styled game play, and a chance to be our favorite ninja star throwing CEO, Woltz Media might have a cult hit iPhone game in the making. Could Ninja Steve be the next Angry Birds?
Game play is easy to pick up. Tap to throw ninja stars, shake the iPhone for Steve's BFG: a rare dragon z ball styled "RDF" (reality distortion field) EMP that destroys all the drones on screen.
Ninja Steve fights against hoards of killer robot drones on Apple Keynote stage, Apple Store styled Cupertino conference room, and the secret Steve bat cave. The robots are fairly fast (faster than the video), with not-so-predictable movements. Not impossibly fast, but provides great adrenaline filled fun. You will need ninja fast reflexes to get high scores. Definite a challenge.
Accuracy matters. In regular game play, Steve has a limited number of ninja stars that refills over time. There are also 2 endless modes, in "Two Shots," Steve gets a ninja star refill only when the target is hit. There is also an endless "Rush Mode."
Verdict? Even though the game play is fairly short at 3 stages and 5 levels per stage, we love it! Woltz Media, creator of Ninja Steve promise that there are "two more stages, two more opponents, and an additional character in the works." Do you think Steve Wozniak will join Jobs on stage? Will Woz flash some dance moves?
Download Ninja Steve [itunes link] now for $0.99. It is created for iPhone and iPod touch. Works on iPad in x2 mode but at a larger area to furiously tap tap tap.
Screenshots of Ninja Steve taken on iPhone 4 by OP Editor.

Related Posts