Christmas Aliens Stole Xmas Sheep From My iPad!
Our favorite iPad tower defense game, Tower Madness, adds holiday alien fighting spirits.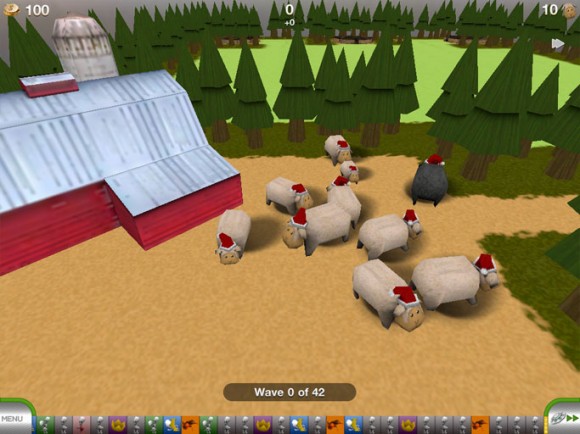 Yes, it's a game where you fight aliens bent on stealing fluffy white and black sheep from your farm! Tower Madness is a fun RTS tower defense game with 49 towers, 16 enemy types, global leader board, Game Center achievements, plus in-game videos on how the best players beat the game.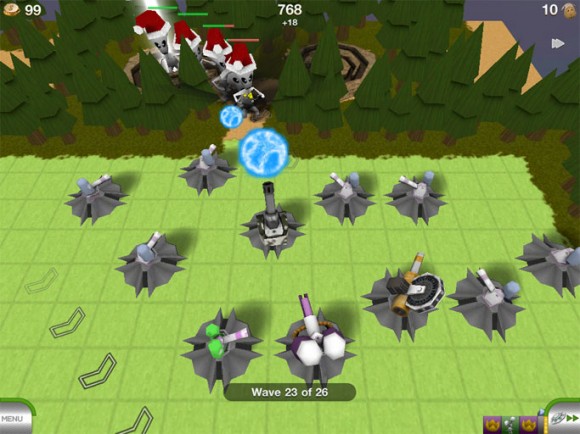 Aliens beam down from flying saucers, travels to your farm through forest, desert, snow via the shortest route. If the aliens make it, they beam back to their spaceship, stealing a sheep per alien. To defend your flock, you got towers. Building or upgrading towers takes time and money, while eliminating aliens earns you money.
For a challenge, you can tell aliens to rush you without breaks (required for the highest scores). There is also an endless mode.
This game provides hours of fun. Its developer adds additional content regularly. Some few small level packs are added free, with larger level packs are available for in-app purchase.
Download Madness Tower Defense Game
Tower Madness HD for iPad [itunes link] is a $7.99 download with multiplayer support.
Tower Madness for iPhone and iPod touch [itunes link] is a $2.99 download.
Tip: if you are playing on higher difficulty levels, we suggest getting the flame thrower (in app purchase of $0.99). Toasty!

Related Posts