Apple Store Demos Santa Claus FaceTime (Video)
Apple demos Santa Claus using iPhone 4 FaceTime to video chat with Elf and cute kids.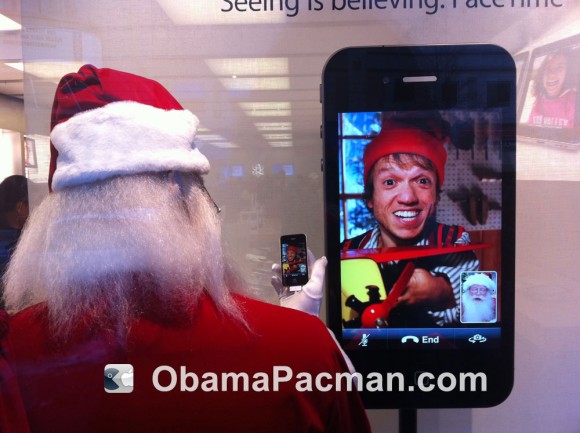 Video: Apple Store Demos Santa Claus FaceTime
Apple enlists Father Christmas to demo the easy to use FaceTime video chat. Got a long Christmas list? You might want try to get Santa Claus' iPhone 4 FaceTime number from Apple Store.
Tagline: "Seeing is believing. FaceTime"
Wait, are the Elf and kids using a levitating iPhone 4? Well, FaceTime works with iPhone 4 and iPod touch fourth generation. It also works with a Mac. Perhaps it's suppose to simulate FaceTime with Apple computers' built in iSight camera.
Video shot on iPhone 4 by OP Editor. I wonder if the iPhone 4 is jailbroken to work on mobile networks? Oh and Apple Store also has the iPad snow globe display.

Related Posts