Apple Lost Steve Jobs, Owes Money
Oh oh: Apple owes $37.91 to STEVEN P JOBS, but cannot find him, according to California State Controller's office of unclaimed property.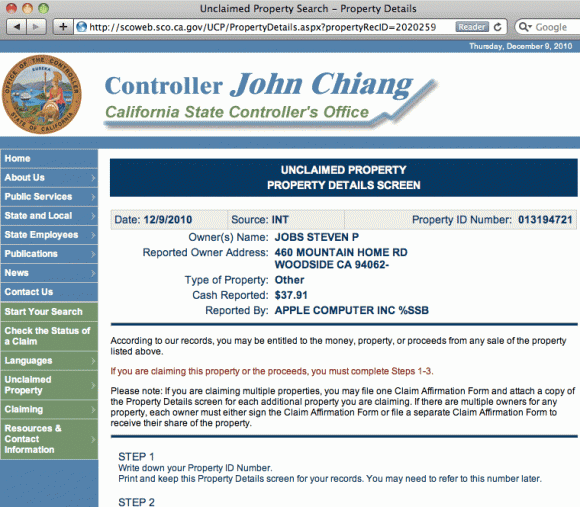 Steve Jobs only takes $1 per year in salary from Apple, so the $37.91 owed is about lifetime's worth of wages! Guess the Apple CEO has to stay hungry, stay foolish. Maybe the Cupertino company is going by the old Steve Jobs business card?
The unclaimed property notice was filed by Apple Computer Inc, the official name for over 3 decades, before it was changed to Apple Inc. on January 9, 2007. According to California law, the claims are to be posted for property "abandoned or lost" for more than three years.
Other companies also owe Apple CEO money. CNN reports that the controller's website shows IBM reported that it owes Jobs $21.45 in stock. Time Warner, owner of CNN, also filed a claim last year saying it owes Jobs 20 cents.

Related Posts