App Store Infographic: iPad iPhone Apps Distribution & More
What is the only app with 1,000,000+ ratings? Latest infographic shows a number of Apple App Store stats.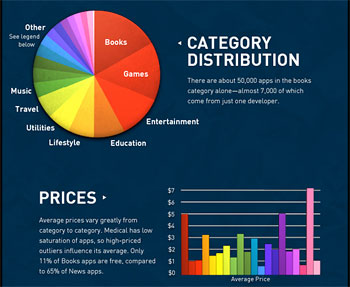 App Store Infographic: iPhone iPad App Distribution
The App Store infographic examines the billion dollar iTunes market with more than 300,000 apps and over 7 billion downloads.
Appoftheday spent a few weeks charting the Apple iOS software store, including category distribution, iPhone, iPad, universal app distribution, ratio of free apps, and price of iOS App per category. For example, at 50,000 Book Apps take the category for the most titles, although over 10% of books apps comes from one developer.

By the way, Fast Company speculates the App Store is "so lucrative that Apple is planning to open a Mac app store in January." Not quite. The benefit is that an easy to use store brings high quality apps, convenience, and time saving for Apple fans, and money for developers. Developers keep most of the earnings (70% of revenue), and the small 30% that Apple takes is used for software distribution, credit card costs, infrastructure, and other costs.
Created in December 2010 by appoftheday but they don't seem to have a post on it on their site.
Slightly larger graphic in left gallery image. Go to image, right click, "open link in new tab" to save.


Related Posts