Android Fragmentation, Part 2: Hardware Buttons
Swapping buttons around randomly to mess with fandroids? Android does fragmentation.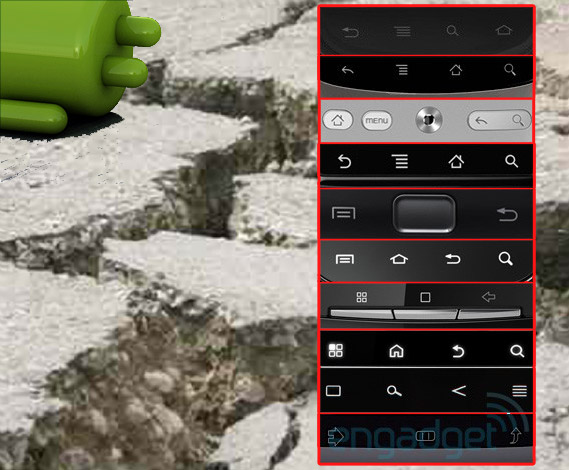 Hardware Android Fragmentation Continued
Previously, we've covered the overall hardware Android fragmentation. This edition covers the mess of haphazer button combinations plaguing Android phones. Another example where Android's ideology of openness fails, where openness does not serve to benefit the consumer. Why? Openness to the extreme results in anarchy.
This compilation of Android hardware buttons shows that the fragmented Android phones can contain 3 buttons, 4 buttons, 5 buttons, with different icons, located at different places on the phone. Hey look, what's that arrow pointing right? It's a house sideways? That's some shoddy construction.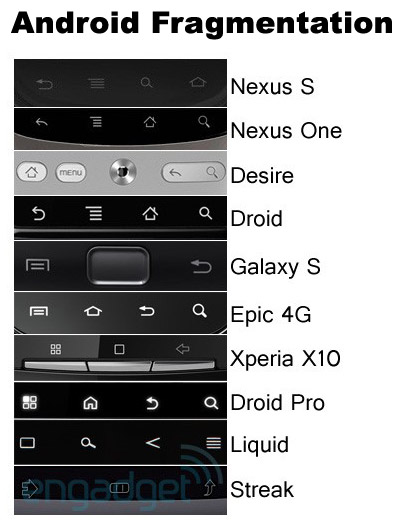 Google's own Nexus S doesn't even follow that of its failed Nexus One. Neither does the kludge Droid and Droid Pro follow the same layout.
The difference in button placement is akin to swapping the right and left click buttons on a computer mouse, but Android drone blindly takes it in their robot worshiping arse.
"Android doesn't believe in muscle memory…. it does not compute." The sentences summarizes the ridiculous Android Fragmentation perfectly, from engadget commentor brokenprism.
By the way, Google already hints at reducing of buttons for the still-vaporware future Android tablets with no price, no specs, and no release date. So in terms of numbers of buttons, these vaporware Android tablet would be more similar to Apple's 2007 iPhone than exiting Android phones. Suck it up Fandroids.
Next up, Android fragmentation, software edition.
Drummertist flickr via engadget

Related Posts