Amazon Revolutionized Shipping: IPS LCD Gadget Diet!
We know that Amazon sells the magical iPad, but who knew the Seattle, Washington based company can make your gadget go on a diet? Our hunt for Mac IPS display finds out.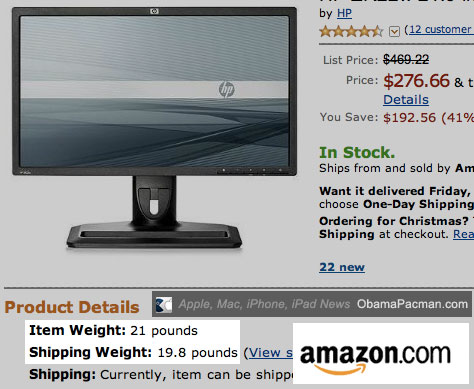 Hunt for Apple LED Cinema Display Alternative
Apple's 27-inch LED Cinema Display [amazon link
] looks great. It uses IPS panel with 178 degree viewing angle (much better than usual 160 / 170), 49-watt speaker system (not just a few watts), but it also has the MSRP of $999, the price of a 11-inch MacBook Air with SSD. But that is not for when OP is trying to save up for a new MacBook Pro.
So, looking for a new inexpensive display for my Mac. Maybe an IPS display, which does not have color shift problems and limited viewing angle of TN LCD monitors.
Came upon the 21.5-inch S-IPS LCD HP Monitor [amazon link
], an IPS 1080p HD display (no LED) for 1/3 of the price of the Apple LED Cinema Display. Ok, not bad. But does it fit on our VESA LCD stand? Amazon lists:
Item Weight: 21 pounds
Shipping Weight: 19.8 pounds
Wait a second, did Amazon just revolutionized shipping industry? How can an item's shipping weight be lighter than the item itself? Are they shipping it attached with balloon, Pixar Up style?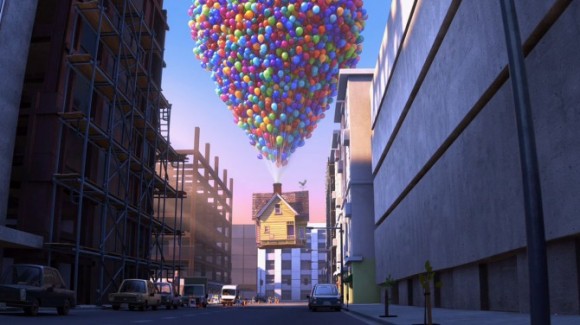 We're hoping to see some funny amazon reviews such as those of the Uranium Ore funny reviews
: "I purchased this product 4.47 Billion Years ago and when I opened it today, it was half empty."
But nothing yet. How about: I bought this product and the package took a detour to Paradise Falls. Carl and Russell finally delivered it a bunch of balloons short…

Related Posts