$180,000 iPhone Controlled LED Chandelier
Swarm Light: an amazingly expensive experimental modern art installation, controlled with custom iPhone app.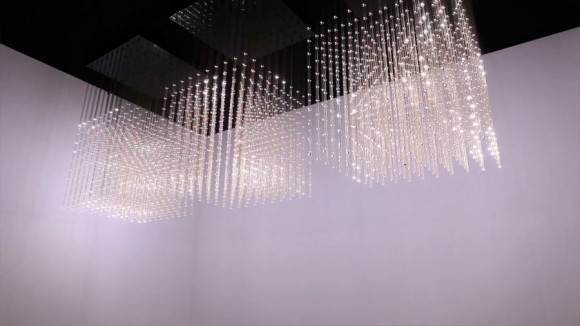 Video: $180,000 iPhone Controlled LED Chandelier
The Swarm Light is a series of little LEDs hang in 3D and computer controlled to display simulated collective movement, like a swarm of bees. Another video:
Swarm Light is created by Random International, which describes: "The installation is a contemporary example of how the arbitrary boundaries of fine and decorative art, design and utility are no longer of immediate aesthetic relevance. An apparently inanimate object, 'Swarm' unites crucial aspects of random international's continued experimentation with light, behavioral responses and interactive spatial environments."
This art installation consists of 9000 LEDs, polished brass rods, 3000 custom circuit boards, custom driver software and hardware, behavioral algorithm, sound sensors, computer & interface, 3 corian boxes, and driver electronics. 3 cubes, each 31.88 inches by 31.88 inches (81 cm). Priced at $180,000.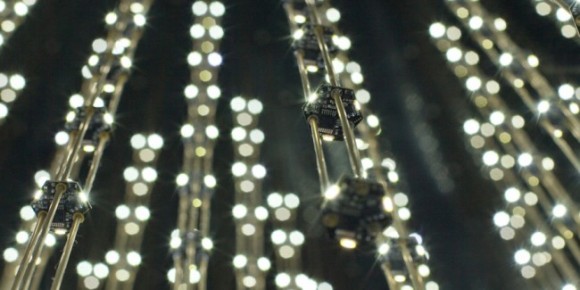 The work of Random International has been in Museum of Modern Art in New York (Design and the Elastic Mind, 2008) and acquired by MoMA after the exhibit. Oh, and they are Mac guys, seen here with MacBook Pro powered art.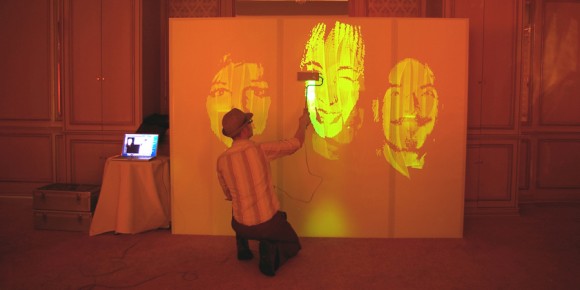 Related Posts