Sprint Announces iPod Touch CDMA iPhone
Sprint brings iPod touch phone to its CDMA network. Next best thing to iPhone?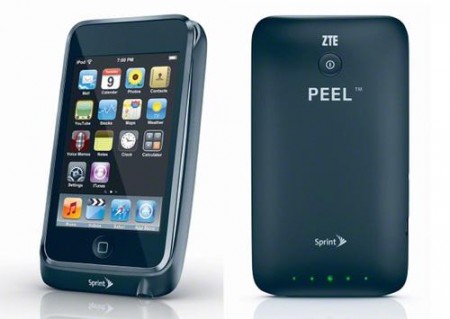 iPod touch + ZTE Peel = Sprint iPhone?
Similar to the recent Verizon iPad which uses a WiFi hotspot, Sprint is introducing iPod touch with ZTE Peel adapter to turn it into an iPhone-like VoIP phone.
The ZTE Peel case provides a built-in mobile WiFi hotspot, allowing the Apple iPod touch [amazon link
] to access internet, make calls with VoIP apps, and receive text messages via apps.
The ZTE Peel slider case for iPod touch arrives on Sunday November 14. Slider case costs $79, and the data plan is $30 per month for 1GB of 3G data. There is no contract.
Pros & Cons, iPod touch + ZTE Peel on Sprint
If you are on Sprint and cannot switch to get a real iPhone, than this might be an interesting option.
Pros: App Store apps, 64GB iPod touch available, mobile facetime without jailbreak, no contract, inexpensive data plans with no cellular voice minute fees.
Cons: Additional device to charge (no mention of battery life), no GPS (there is wifi based location-services but that's not as accurate), removable case covers back camera, iPod touch camera not as good as iPhone 4, thicker, WEP security only. And possibly requiring to use the headset with microphone included by Apple?
Interesting concept. The iPod touch ZTE Peel seems to have skirted the dock connector licensing issue by using WiFi instead of the dock connector. Kudos on the designer and Sprint for taking the chance with it. Would Apple shut this down?
via sprint

Related Posts