Oprah's Favorite Thing Ever? iPad [Video]
Oprah just gave away her ultimate favorite thing, an Apple iPad, to each of her lucky studio audience. Video.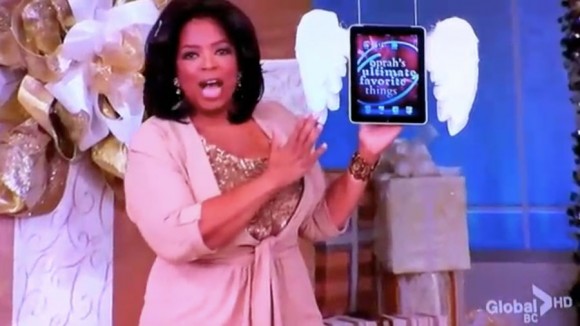 Video: Oprah Ultimate Favorite Things, 2010
On the annual Oprah's Ultimate Favorite Things for 2010:
"From our ever first moment together I knew it has stolen my heart… I really think it's the best invention of the century so far… Apple, you got 90 years to go, so what are you going to do to top this?" Oprah describes her iPad love.
Oprah reads magazines, writes, watch videos, and play Scrabble [itunes link] on the iPad. The Apple tablet even helps Oprah to be more productive: "I write my column for O magazine on the iPad way before the deadline because I love writing on it so much."
Oprah is the creator of the award winning Oprah Winfrey Show, a popular talk show that reaches a wide audience, with many people following her recommendations. She recently launched her O Magazine for iPad [itunes link].
Since iPad is already the fastest adopted device ever (faster adoption than the ubiquitous DVD player), would making the Apple table even more popular result in iPad shortages in the holidays?
What App?
Update: Quite a few people asked: what App is used to get the Presidential autograph? We can't tell in this case but any drawing app, (preferably with multi-layer support) would do. Free app is Adobe Ideas, and if you want a ful featured app, ArtStudio [itunes link] is excellent.

Related Posts