Nick Denton of Gawker / Gizmodo: Apple iMovie Journalists Can Beat TV Companies
Owner of Gawker Media, parent company of Gizmodo, believes iMovie bloggers / journalists can beat traditional media companies.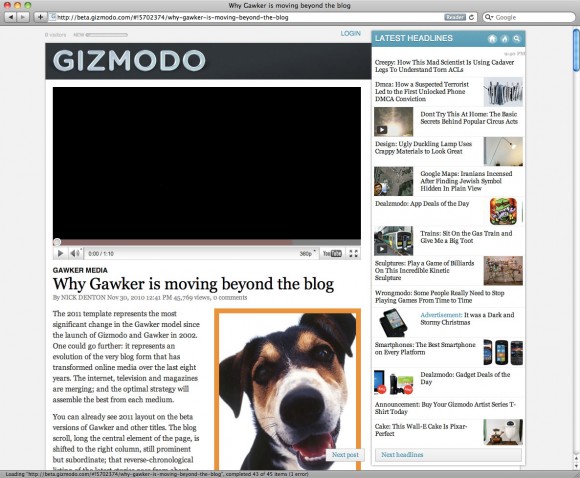 Old-School Blogging: the End is Near?
Gawker is about to release a new site re-design for Gizmodo and other Gawker Media sites, moving away from the blog format.
In the "Beyond the Blog" article, Gawker founder Nick Denton explains the reason behind the changes, insight on running a media business, and outlook on future of their media business. Denton also anticipates Gawker bloggers skilled in Apple's iMovie video editing app (on a Mac) to beat traditional media companies:
"I used to think that our expertise was text; that TV companies would have an unmatchable advantage when it came to web video. But what is increasingly evident is that traditional media companies are encumbered by old formats in video as much as they are in written journalism. Gawker bloggers, once they're as familiar with iMovie as with cut-and-paste, can beat them." – Nick Denton, Gawker Media.
Interesting article with some good ideas. Worth the read.
Gawker Media Design Fail
However, we think the new Gawker design, available on beta.gizmodo.com is a huge load of FUGLY fail. Although there are improvements, their new site seems to be designed for more page clicks at the expense of usability. Come on! No article excerpts? Random huge ads in body (the puppy is a huge ad that shows up occasionally). Alternative image placement that makes headlines hard to read? AND small Serif fonts? Might want to take web usability design 101.
PS. Short term profits from obtrusive, annoying ads are not going to last forever.
via gizmodo

Related Posts