Mini Steve Jobs Action Figure
Extremely detailed hand-made mini Steve Jobs action figure with iPhone 4, on Apple pedestal.
Is it a work of art?
Most realistic Apple CEO action figure ever, of Steve Jobs wearing his famous black turtleneck, Levi jeans, and new balance sneakers. The mini CEO wears removable glasses and holds a really tiny iPhone 4 with detailed home screen and Apple logo back!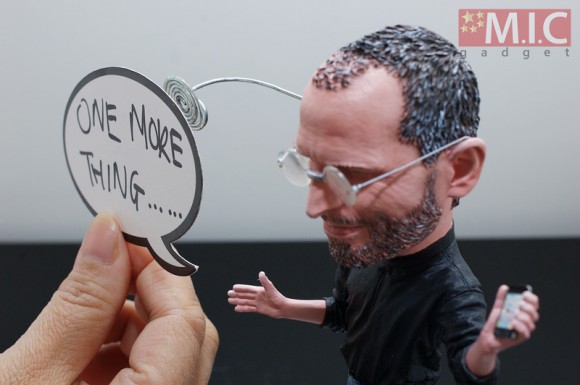 You can even put up real speech bubbles. OP thinks: A Steve quote a day drives MicroSheep away!
The mini Steve Jobs action figure is larger than an iPhone 4 but smaller than an iPad. Want to have a mini-Steve Jobs action figure? M.I.C store has SOLD OUT of all limited edition of 300 sets of the Steve Jobs figure at $79.90 each. More photos at micgadget.

Related Posts