Michael Dell Joins Apple Board as Official Jester
Scoopertino welcomes Dell CEO and the fugly Dell streak, an oversized phone tablet wannabe, into the Apple boardroom.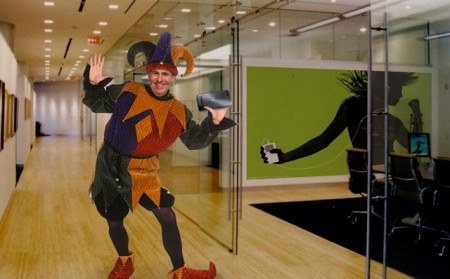 Michael Dell Joins Apple Board
In a news release from Scoopertino parody land, Steve Jobs welcomed his former competitor as comic relief during serious meetings:
"The Apple board is a serious group, making billion-dollar decisions," said Mr. Jobs. "But we're people too, and we need a good laugh now and then to let off steam. We're grateful to have someone of Michael's caliber to lighten the atmosphere."

Apple board member Millard Drexler was practically in tears after Michael's first performance. "He pulls these whimsical devices out of his satchel, like the Dell Streak," says Drexler, "and he starts explaining how cool a five-inch tablet can be. Five inches! I almost wet my pants."

Michael Dell in Real Life
In the real life, responding to Steve Jobs' criticism that Dell makes "un-innovative beige boxes," on October 6, 1997 Michael Dell said if he owned Apple, "I'd shut it down and give the money back to the shareholders."
However, the CEO of the beige box maker has been unable to copy successfully any of the hot Apple products from the iMac, iPod, iPhone, and iPad. In 2006 Apple has surpassed Dell's company value / market cap.
Recently Dell dropped BlackBerry to switch to force its employees to use the unproven bulky button Windows phone 7. Trading dinosaur device for an unproven Microsoft product that could be dropped like the Windows Phone Kin. What a joke.
So, who is next? Steve Baloney Ballmer?
via scoopertino

Related Posts