MacBook Air 11-Inch 128GB: $1100 Sale
The newest MacBook Air 11-inch LED LCD with 128GB of fast SSD storage, normally $1199 plus tax, is available for $1100 right now with free shipping.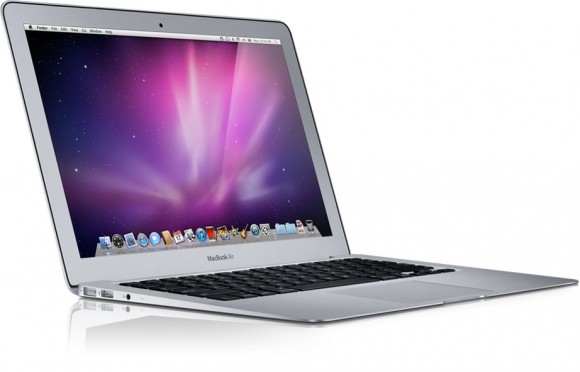 Missed Apple's Black Friday discount on MacBook Air? Apple only provided discount on the 13-inch, not the 11-inch, so here's a 11-inch MacBook Air deal at $100 off, free shipping. Full specs:
Apple MacBook Air, MC506LL/A
11.6″ Ultra Portable Notebook
128 GB SSD
1366 x 768 LED Display (resolution similar to many bulky 15″ pc laptops, but better quality LED display)
Core 2 Duo 1.40 GHz, 2 GB RAM
nVIDIA GeForce 320M
Bluetooth
iSight Webcam
5 Hour Battery
Mac OS X Snow Leopard, iLife 11 (iPhoto, iMovie, GarageBand, iWeb, and iDVD)
DisplayPort, USB ports
2.3 pounds (1.06 kg)
Standard 90 day free telephone support and one-year limited warranty (extendable with AppleCare to 3 years support and warranty)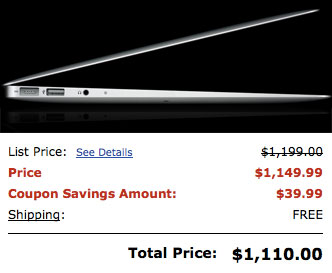 Limited time only, so buy it now. Note the 11-inch MacBook Air has higher screen resolution than the current entry level MacBook Pro 13-inch, and better than many bulky PC laptops).
For other MacBook Air deals, including the 13-inch MacBook Air
, look here:

Related Posts