iPod Evolution: What's in Steve Jobs' Pocket
Evolution of Apple's revolutionary music player, with video history of how Steve Jobs pulls it out of his… pocket.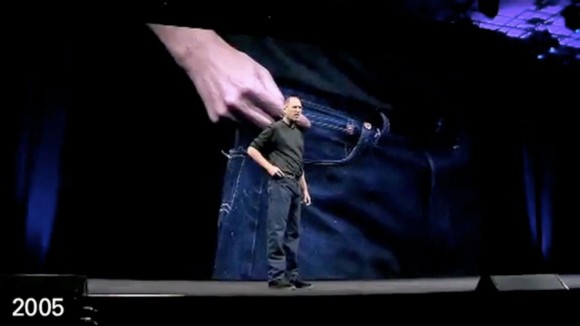 Video: iPod Evolution, Steve Jobs Apple Keynotes
A study of Apple CEO fashion evolution and iPod history, featuring select footage from Apple Keynotes from 2001 to 2008. So, what's in Steve Jobs' pocket?
Steve Jobs Over the Years
Over the years from 2001 to 2008, Steve Jobs, the iconic Apple CEO is able to pull these iPods out of his pocket:
2001: "Boom, that's iPod." Steve Jobs introduces the original iPod (measures in GBs while other players are confined to tiny storage in terms of MBs)
2004: iPod mini, with mini harddrive
2005: Ever wonder what this pocket is for? New flash memory iPad nano reinvents fashion, by finding a use for the tiny jeans pocket
2006: iPod shuffle with integrated clip
2007: Fattie iPod nano (oh noes Steve Jobs gives the finger)
2007: iPod touch, the iPhone without a phone
2008: iPod nano long LCD
Perhaps some day in the future Steve could demo the magical tablet Stephen Colbert iPad style. And, when is he going to introduce the iPod invisio?
By Woodrow Jang, the same artist who did the iPad: Future is Now video.

Related Posts