iPhone User Creates Amazing Angry Birds Birthday Cake
The popular iPhone game Angry Birds' latest amazing inspiration is the ultimate birthday cake.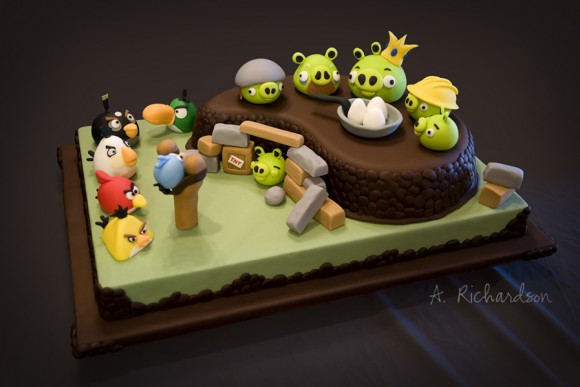 Angry Birds Birthday Cake by A. Richardson
Looks bird-a-lish-cious! Angry Birds vs. egg poaching pigs, this birthday cake has it. What wonderful details!
Creator Anya Richardson, aspiring cake artist, and iPhone user from Oklahoma describes how much it would cost to make this ultimate priceless cake: "Had someone ask how much $ to order the Angry Birds cake. It'd take a miracle for me to ever attempt to make that one again. lol".
Anya describes to OP Editor: "My 8yo son and I are both addicted to Angry Birds because it's something we can both play and have a little friendly competition. He requested an Angry Birds cake for his birthday this year, and I was so excited I just had to pull out all the stops. I love modeling figures out of fondant so I probably went a little overboard, but it was worth it in the end. I made the characters over the course of a few weeks, I'd say I have about 50 hours of work in those, and that's not including the time to decorate the actual cake. In total, probably 75 hours of work."
Should this cake earn a golden egg? I wonder if she would trade a cake for a new Mac? The creator of this amazing cake recently wrote on her iPhone: "Dear Santa, Please bring me a Mac. #pcrage"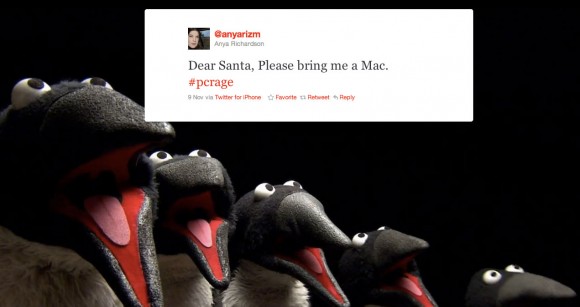 Do you think Steve Jobs would play Santa?
The creator of this most amazing Angry Birds birthday cake ever also makes custom cakes, including unicorn cakes, black sheep cupcakes, and other artsy things at Cabbage Gravy.
Cabbage Gravy and @anyarizm. First image from someone else's flickr

Related Posts