FAIL: iOS 4.1 Alarm Bug Hits US
iOS 4.1 alarm bug hits US first weekday after day light savings time, on on Nov 8, 2010.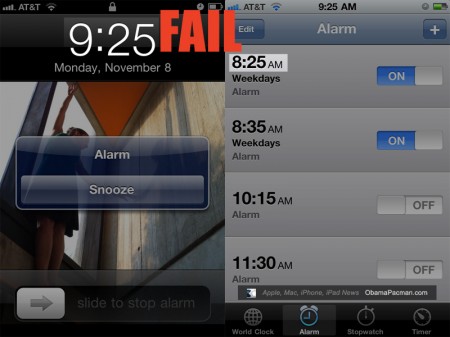 The alarm issue on iOS 4.1 on iPhone & iPod touch recently affects some European countries. It hits U.S. just now. Those affected will find the alarm is off by 1 hour. In the example, an alarm set for 8am turned on at 9am.
The alarm bug only affects recurrent alarms, such as the weekly alarm. It does not affect one-time alarms.
iPhone iPod touch 4.1 Firmware Alarm Fix
How to fix iOS Alarm Bug?
One time alarm, but you have to turn it back on each day
Deduct one hour weekly alarm
iOS 4.2 Firmware, which just become GM (final version) candidate and is expected to release any day now, contains the fix for the alarm bug.
Update, Tuesday:
Looks like people might be affected by different issues. Changed the alarm 1 hour early today and it rang 1 hour early. Tomorrow, testing one changed back to the original time, and one changed to original time minus one minute.

Related Posts